New cross-device tracking Feature 'Signals' is now live within Google Analytics.
Signals allows you to more accurately identify the same user that uses your Website from separate devices. This will allow you to avoid double counting those users, offering much cleaner and more accurate attribution and analysis.
When you're planning a holiday, are you one of these people who sits down with Pro Plus and a can of Red Bull (other energy supplements and beverages are available) in front of your Desktop and trawl through various travel sites until you've booked five nights in Alicante, ten minutes from the beach and five minutes from a local tourist shop? Or do you get a seed of a holiday idea, do a bit of phone research when you're on the bus, completely forget about it, then two months later revisit the same sites with the intention to book something? I'm definitely the latter.
What does this mean for Website owners and Marketeers who use Google Analytics? If you're a researcher/booker like me, you appear to be two different visitors to the site owner – one when you originally looked at the site on your phone and then another when you returned later on your desktop.
This might appear to be a good thing for the heads of the business. "We had 200,000 unique visitors this month! Crack open the Champagne!"

Now you get the idea. Four "Unique Visitors" could be one person looking at your site in different places. Wouldn't it be better to understand the behaviour of this one person across many devices and get a real picture of how your site is performing? Google Analytics' new embedded feature, Signals, claims to be able to help us with all of this. It will also be brilliant for remarketing as you can target visitors across multiple devices. I'll focus more on the reporting side of things in this case.
There was previously a cross-device reporting feature within Google Analytics but it had relied on Visitors being logged into your site on various devices to identify them. Nice attempt but in practice impractical as some sites don't allow visitors to log in. This new feature uses the Google login facility to allow 'Signals' to be sent from various devices. If you are logged in on YouTube, Gmail or (extremely unlikely) Google+ on your device then you'll send out these 'Signals'.
Let's look at an example journey of a logged in visitor:
 Jim, sitting on the bus at traffic, searches for 'holidays in Spain' and gets shown a PPC Ad for alicanteforhols.com. He clicks on it, finds a few nice places to consider, emails himself the links. He gets off the bus, remembers he forgot his umbrella, swears and completely forgets about holiday booking (for now).
Jim hears about other people's holidays and gets jealous, he goes home to book a holiday in defiance. He sits down with his laptop and opens his emails to find the links and clicks through to site. Books the hotel and feels smug albeit slightly poorer. He emails himself some more articles from the site with Hotel details.
He goes on holiday, listens to too much loud music on the flight and drains his phone battery. Borrows his friend's phone to find out where they are supposed to go. Logs into emails in incognito mode to find the Hotel links and clicks through to site.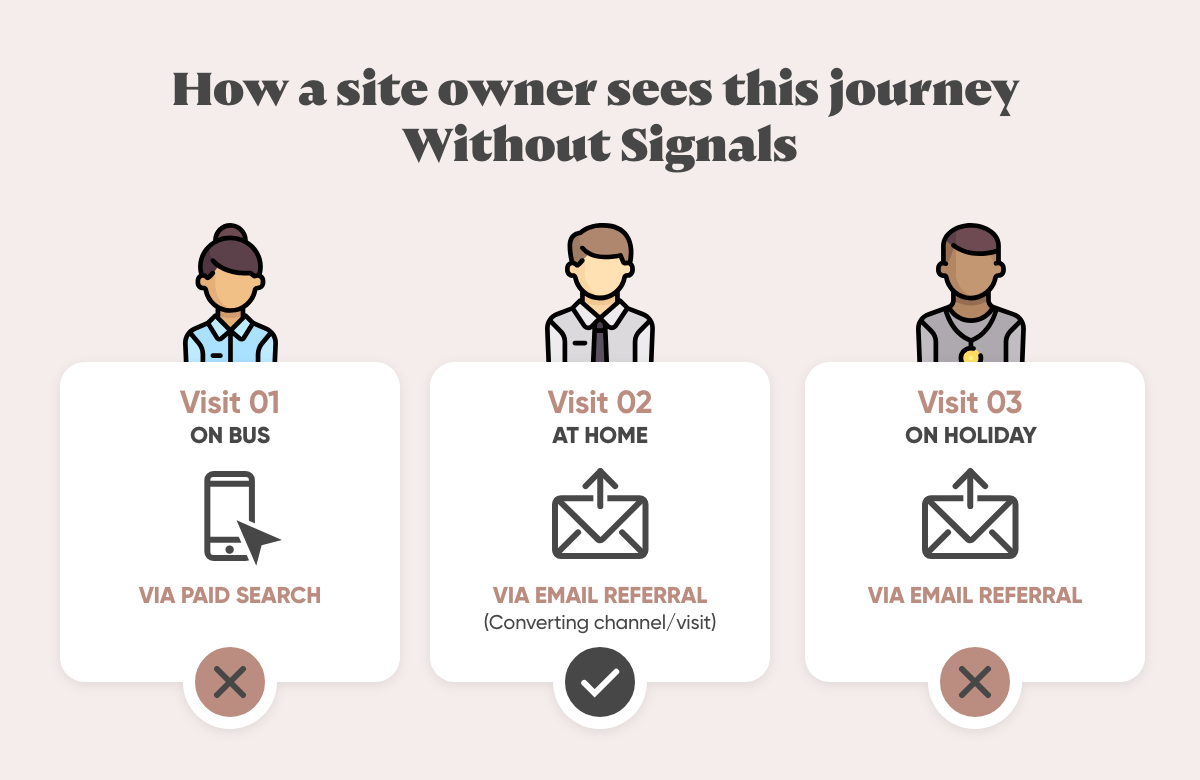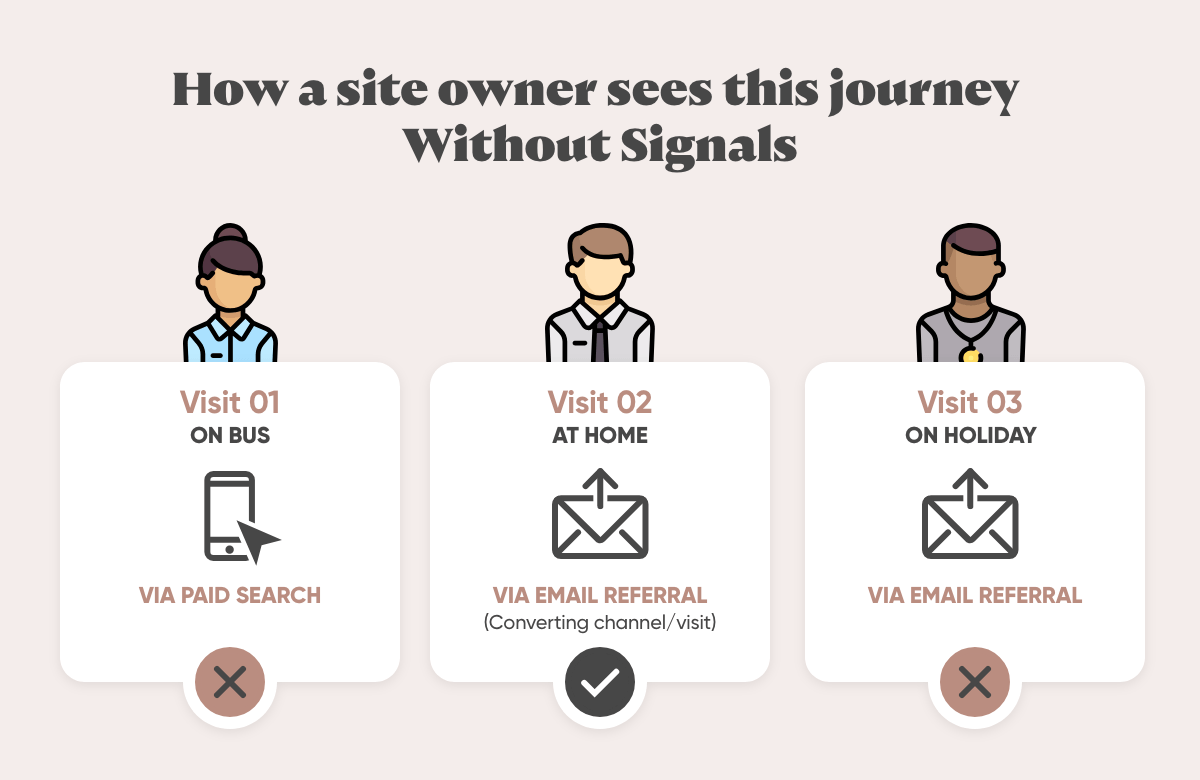 In this case the marketing department would see (Jim) as a brand new Visitor who converted from email and the original paid search campaign would get no credit. The conversion rate for this journey would be 1 in 3 visitors and the converting channel would be email.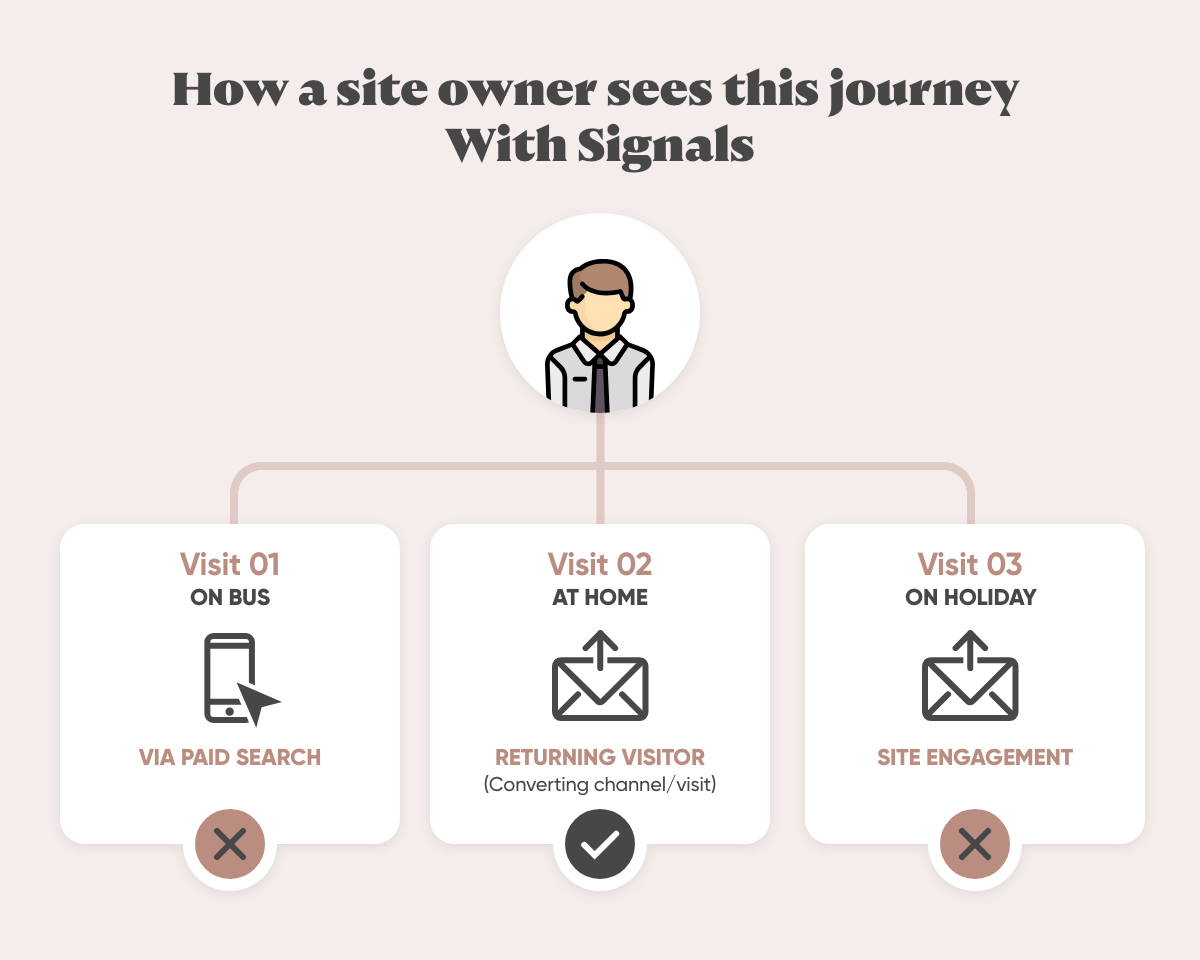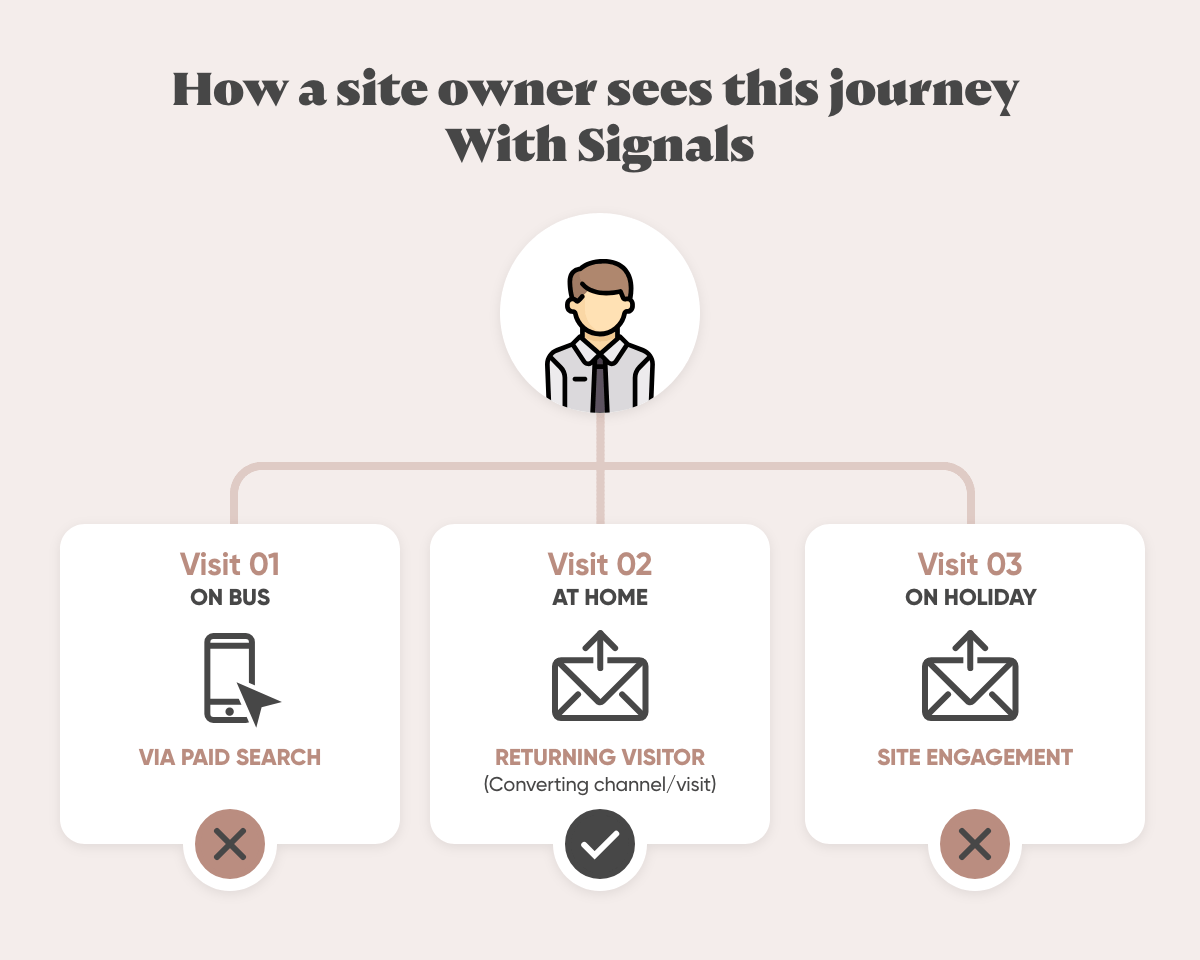 In this case the marketing department would see that the same Visitor came via three separate devices and converted on their second visit after originally seeing a paid search campaign. The conversion rate for this journey would be 1 in 1.
Disclaimer: Email referrals in many cases show as 'Direct' traffic. This is the most misleading of channels as it doesn't actually mean anything other than the visitor could have typed a URL directly into their browser or might have come via something sent in a WhatsApp message.
How to implement Signals
It is being rolled out, so you may not be able to see this yet but…in your Google Analytics Admin section navigate to Property column > Tracking info > Data Collection and there should be a blue banner to prompt you to 'Get Started'. From there you can activate Signals. If you need any help, give Zesty a shout. Our Insights Team will be happy to advise.
It's not perfect yet…
As with any new Feature release, Signals is not perfect…
Visitors must be logged in to their Google account on all devices. I have a feeling this is going to work a lot better for Chrome and Android users as it's basically integrated into the functionality.
Visitors must have Ads Personalisation turned on in their Google account settings (the default setting). This means that website owners need to be GDPR compliant i.e. let their Visitors know they're being tracked and give them the option to 'opt out'.
Currently, there are some unanswered questions on how well this will work for most Marketers, as it is still a beta feature however it is a marked improvement from the current offering and we can see its potential to improve the accuracy of Visitor behaviour analysis and channel attribution.
…but it's a start. We think it's good because it…
Improves accuracy of Visitor behaviour analysis
Improves channel attribution analysis
Reduces duplicate ad spend
Helps with retargeting campaigns
The Zesty Insights Team will be following the evolution of Signals closely, our learnings and recommendations will be valuable for our Client's to effectively review website performance and return on investment.
Want to know more about Signals and how it can work for your website? Contact Zesty and speak to our Insights Team.
Published by Zesty