From Bebo to Vero, social media platforms can soar in popularity and be forgotten all in the time it takes to send a Tweet. In an age of overwhelming consumer choice, the pressure is on to present a platform that's as appealing as possible - all it takes now is for Kylie Jenner to criticise your latest redesign and you too could lose $1.3 billion off your company's market value!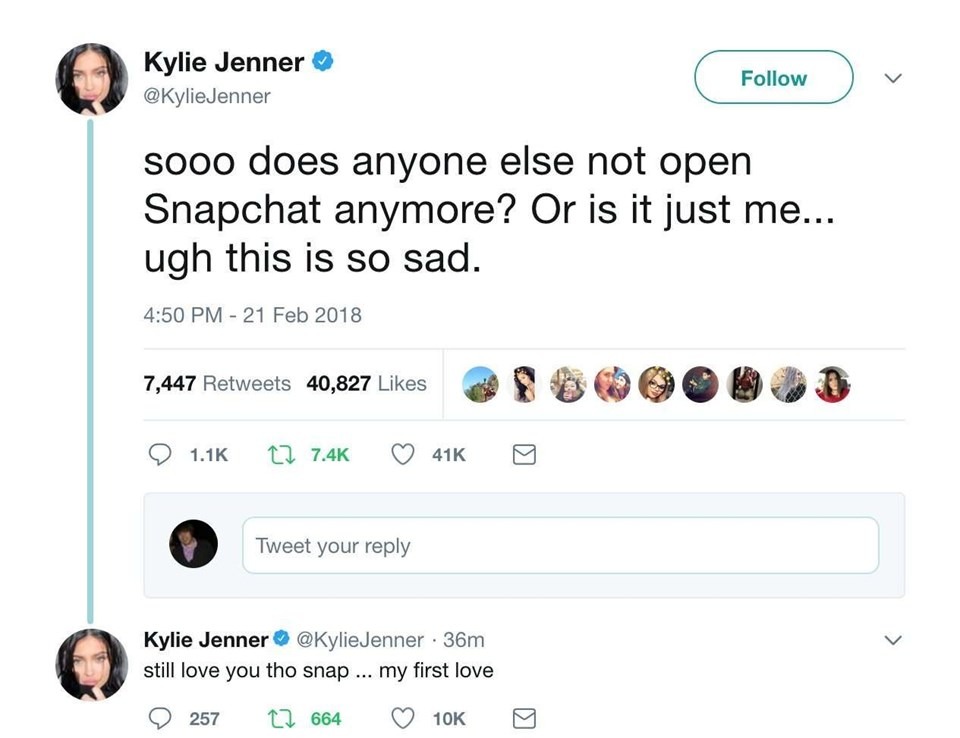 Channels may come and go, but whichever you choose, one thing remains steadfast – social media adoption and usage levels are consistently on the up. According to WeAreSocial, out of a total global population of 7.593 billion, there are 3.196 billion active social media users – a staggering penetration rate of 42%.
Consider that almost half of the entire world uses social media
It's in your brand's best interests to establish a presence on key channels, create a killer social media marketing strategy and captivate your target audience with serviceable content.
But what do you do when that isn't enough?
Is Organic Posting Still Effective?
There has been a noticeable decline in organic social reach, as brands struggle to navigate ever-changing algorithms and compete with a surplus of content. Now, a Facebook post's average organic reach is only around 6.4% of the Page's total likes – which can pose significant problems for brands who haven't managed to grow a high volume of followers.
The majority of social media platforms have chosen to adopt a "relevancy over recency" model when it comes to displaying content, which significantly reduces the volume of posts that users see from brands in favour of updates from friends and family. This can be a frustrating obstacle to overcome in a company's quest to increase engagement and convert customers.
A more positive repercussion, however, is the responsibility it places on brands to do more than simply fill their newsfeeds with self-serving promotional posts and aimless, unplanned content, expecting it to land.
This is also, in part, why paid advertising is now an essential component of any effective social media marketing strategy.
The Benefits of Paid Social Advertising
With social ad platforms providing increasingly granular targeting options (you can serve ads to users based on everything from their location, to their age, to the company they work for), social media ads can be the most immediate and cost-effective way to raise brand awareness and maximise conversions amongst the most relevant audience.
Paid social can benefit business at every stage of the sales funnel. From campaigns to increase your volume of social followers, to lead generation campaigns that encourage contact form submissions, to remarketing ads that finally secure an online product purchase. Having strict control of your budget down to the final penny and the ability to choose from a number of bidding models (pay for every impression, click, or video view your ad receives) also gives you the opportunity to achieve the best possible Return On Investment.
Stand Out From The Competition
As more brands begin to incorporate paid advertising into their use of social media, it's essential to be able to communicate your company's value proposition within a succinct, impactful ad.
In need of inspiration? Look no further than this video ad from personal training and audio fitness app Aaptiv. Aspirational and incentivising, it uses a video montage to instantly engage its audience while using a text overlay to communicate the app's USP in a few short, easy-to-consume words.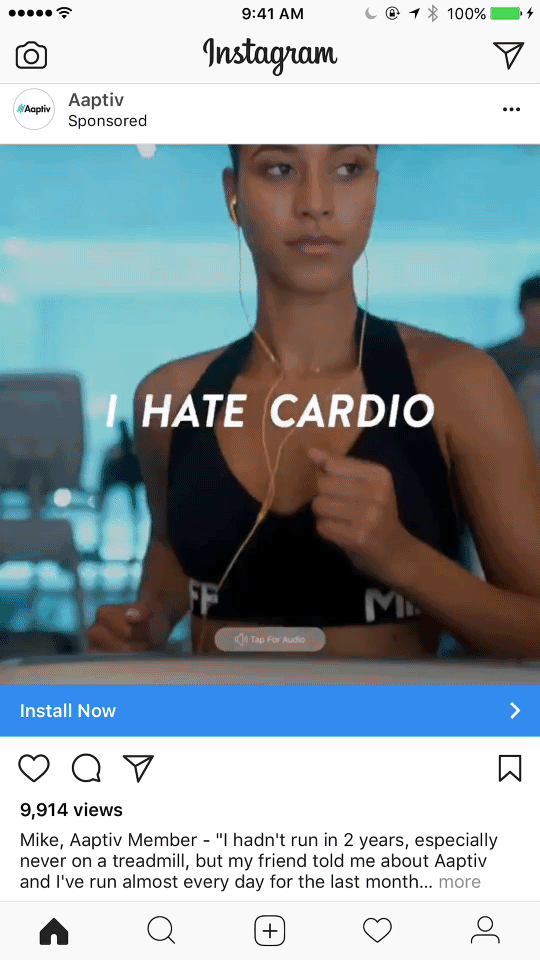 Set yourself apart from competing advertisers and seize the massive opportunity these channels can offer by approaching paid social as tactically as possible. We're here to show you how:
Step One: Create Super Targeted Campaigns
Did you know? For every $92 a brand spends trying to acquire customers, only $1 is spent converting them. Prioritise your conversion rate and secure your social media advertising success by making the most of your available ad targeting options. Ad platforms have refined these capabilities significantly over the years, to the extent that location-based targeting and basic demographic data such as age and gender are no longer enough to ensure maximum relevancy. This relevancy is integral to achieving your advertising goals – in a survey, 51% of social media users said they would unfollow brands if they were subjected to irritating posts. 27% said they would mark/report the page as spam and block them. The solution?
Be super specific in your targeting to create a custom audience that will be amenable to your ad.
Need support with your social media campaigns? Get in touch
Basic options such as age, gender and location can be used to decide on which channels and when you will deliver your ads. In other words, they form your high-level customer persona. After that, you can go granular. Interest targeting will help you to build an audience based on the things they like and share on their Twitter or Facebook page. Behavioral targeting means you can use data such as a user's browsing history and previous purchases to discern if they'll be interested in your ad. Beyond that you can use criteria including income, level of education… even the device your audience is using! The deeper you drill, the more likely it is that you'll make the most of your ad spend and achieve your goals.
Don't forget to use exclusion targeting too! This is a great way to reduce budget spent on fruitless clicks and instead focus on reaching an audience that is more likely to convert. By choosing options by which to avoid targeting a user, you can prevent wasting money on displaying an ad to existing customers, or users who are too geographically far away from your bricks-and-mortar store.
Step Two: Incorporate Engaging Video Content
Social media marketing is now synonymous with video and the power of virality. It has established itself as a highly effective format within an ad campaign. Leveraging video is especially important if your target audience is active on apps such as Instagram or Snapchat.
Yet to be convinced? With more than 5 billion videos viewed on YouTube and 10 billion views generated through Snapchat every single day, video dominates social media platforms daily.
Faced with an audience with limited attention spans and a tendency to quickly scroll past content, video has the potential to excite and engage users just long enough to allow you to convert by conveying your brand message in an eye-catching 60 second burst. Now an essential asset for a successful marketer, rather than a newfangled novelty, 51.9% of marketing professionals worldwide cite video as the type of content with the best ROI.
All you need to do is deliver the right type of video at the right time for the right device! A high volume of video content is consumed on mobile, and much of it autoplays in social feeds on mute, so subtitles or text overlay that complement your audio is often a strong addition. If you choose to leverage Instagram Stories or Snapchat, keep your video succinct, with a length of around 10-20 seconds – any longer and your audience may disengage! Finally, choose your content angle according to the channel. YouTube and Facebook can accommodate longer-form videos such as product demos, tutorials, informative Q&A's and artful branded concept videos. Instagram, Snapchat and Twitter, meanwhile, are better suited to short teasers and promotional clips.
[embed]https://www.youtube.com/watch?v=YfvLg4OC2gE[/embed]
This is a fantastic example from Adobe, who leveraged User-Generated Content by interviewing May Parsey, a student and artist who uses their Photoshop and Illustrator products, and whose work became the brand's advertising. It worked as an authentic product testimonial, humanised the Adobe brand and showcased May's work simultaneously!
In one month, global social media usage grew 12% across Facebook, Twitter, YouTube and Instagram with 7,112 new global fans and followers.
Need help creating compelling content that converts? Let us know!
Step Three: Don't Forget to Split Test
Once confined to the comparatively ancient channel of direct mail marketing, split (or A/B) testing has become a mainstay of marketers. A low investment and high yield is, of course, every business's dream, but it's particularly important for small businesses, startups and anybody else who has limited ad spend. If you want to make a lot out of a little, split testing is a necessary practice. In fact, using the right targeting and testing methods can increase conversion rates up to 300%!
Split testing is the single most important method of finding out what works, as well as what doesn't, with regard to everything from ad copy to imagery, to button CTAs. Does a Tweet with a video or an image work best amongst your followers? What about a carousel ad on Facebook, versus a link ad that drives users to your website? Casual, light hearted humor or a more professional, to-the-point tone? Once you've established which variation of an ad, A or B, best converts potential customers, you can feel confident that your newly optimized campaign will perform well, and you can comfortably control and capitalize upon your ad spend.
It's also worth split testing organic content, as this will give you an invaluable insight into what kind of content performs best and should be incorporated into a paid campaign.
You can split test your social media ads manually by choosing one element to test and creating two separate ads which can then be displayed to a small user segment. By measuring their performance, you'll be able to discern which ad will do the best job of optimising your conversion rate amongst your entire target audience.
We can help you to optimise your conversion rates! Find out more
To make this even easier, Facebook have a split test feature, which can identify which delivery settings, bidding amounts, audience profile, and ad placements will deliver the best results for you. Once you've picked the element you want to test, you can enter your testing budget, and let Facebook know when and for how long you want to start the test. It's best to let the test run until you accrue at least 100-200 clicks, so you have enough data to make an informed analysis.
Social media advertising revenue in the US alone is estimated to reach $15 billion by the end of this year and $17.34 billion in 2019, a clear indication of its growing popularity and efficacy. If you haven't already, start planning a paid social ad campaign today and let us know how it performs!