Local SEO refers to the process of optimising your brand's search presence to attract more business from relevant local searches. This is particularly useful if your business has a bricks-and-mortar element, but ultimately, having a solid local SEO strategy in place is one of the most effective of promotion, whatever your business model, to local customers. Even better, it makes you more visible on search engines to these prospective customers when they need you most, giving you an opportunity to seize the moment and make a sale!
WHY DOES LOCAL SEO MATTER?
Catering to Local intent
According to Google, 46% of searches have a 'local intent', which means that they include references to specific locations, and the searcher wants business suggestions based on where they are, where they live or where they're going. Search engines recognise this and tailor their search results accordingly.
Google's Consumer Insights has reported a 900% increase in 'near me' searches over the past two years, an incredible growth that shows the increasing importance of local SEO, in correlation with smartphone and voice search adoption levels. In fact, over 20% of people use voice search for finding out local information, like an address, website or phone number.
'Near me' searches span a variety of business types and industries. Users could be looking for a restaurant, a hotel, a beauty salon, or an accountancy firm. So, if your business is targeting audiences with a location-based strategy, you can improve your findability in relevant search results by embracing local SEO.
The Ongoing Importance of Bricks-and-Mortar
Even in our digitally transformed climate, the integration of online and offline marketing strategies is still an essential consideration for many businesses. For example, 90% of retail purchases in the US take place in physical stores, with traditionally online-only retailers such as Amazon adopting a bricks-and-mortar approach. It's hard to find a substitute for the tangible experience of seeing and touching a product in-person (although our guide on optimising your product pages will help you get as close as possible!). Similarly, despite the technological convenience of online booking systems, FAQ pages and chatbots, many customers still prefer the human element of customer service and personalised shopping experiences – in a survey carried out by PwC, 80% of respondents said that even as technology evolves, they'll still want to interact with a real person.
Local SEO can drive significant benefits for businesses that have both an online presence and brick-and-mortar component, helping users to discover you online, and encouraging them to engage with you as a customer offline.
HOW CAN I MEASURE THE SUCCESS OF MY LOCAL SEO?
The difference between acquiring a new customer or losing them to one of your competitors in the same area can be attributed to your prominence in local search results, and the quality and detail of your listings.
A big indicator of a successful SEO strategy is an increased volume in organic search traffic to your website. However, search results become increasingly detailed, with featured snippets, media elements and paid ads all providing enough information that often, a searcher doesn't even have to visit a website to find the information they were looking for.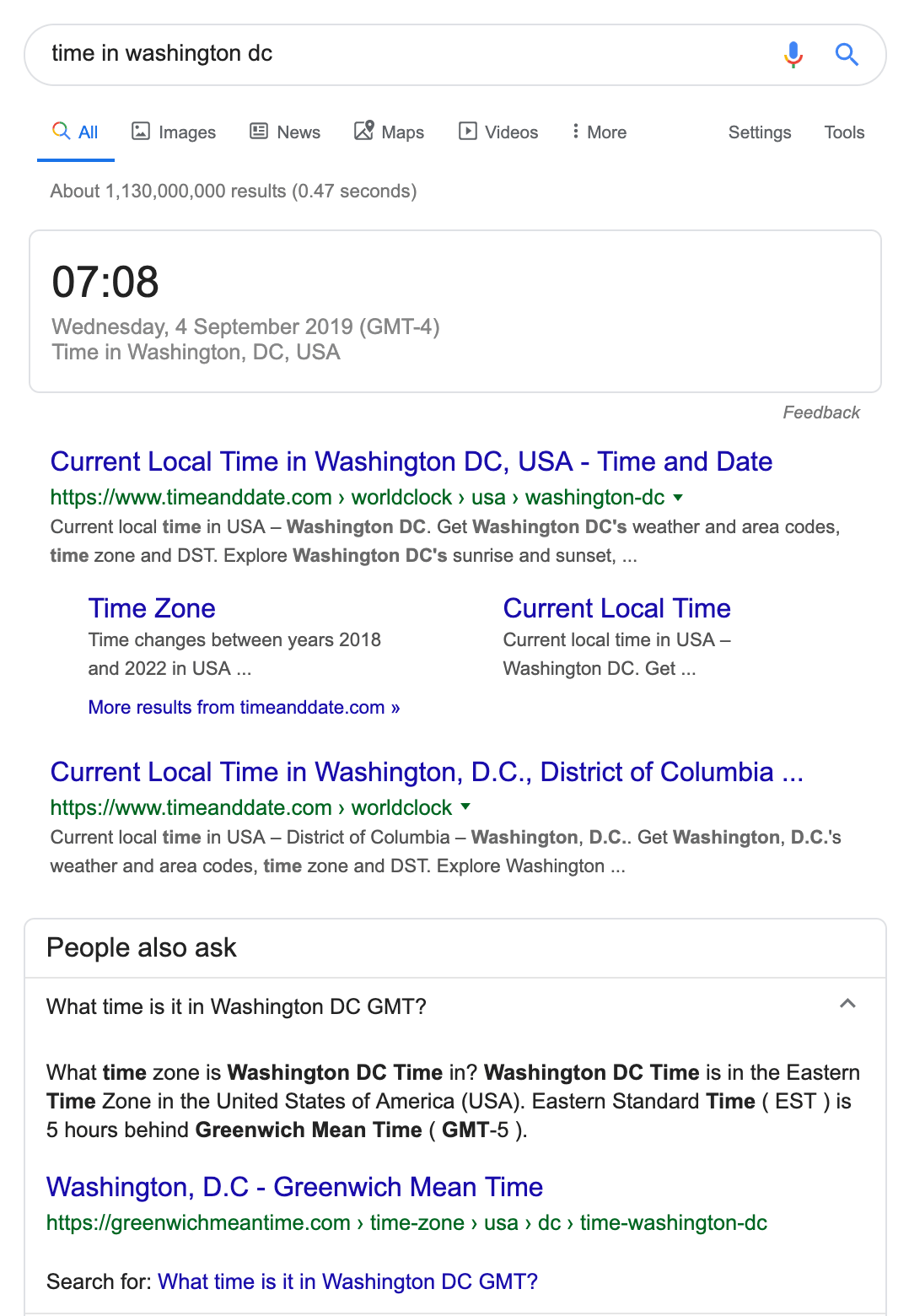 These 'zero-click' results, increasingly common on mobile and voice searches have placed an added importance on dominating local search results and leveraging your visibility to convince and convert, as well as Click Through Rates and traffic volumes.
Become a member of the Snack Pack
Google Snack Pack (also known as the 3 Pack) is a prominent boxed area that appears at the top of the first search engine results page. It displays the top three local business listings that relate to a user's search query.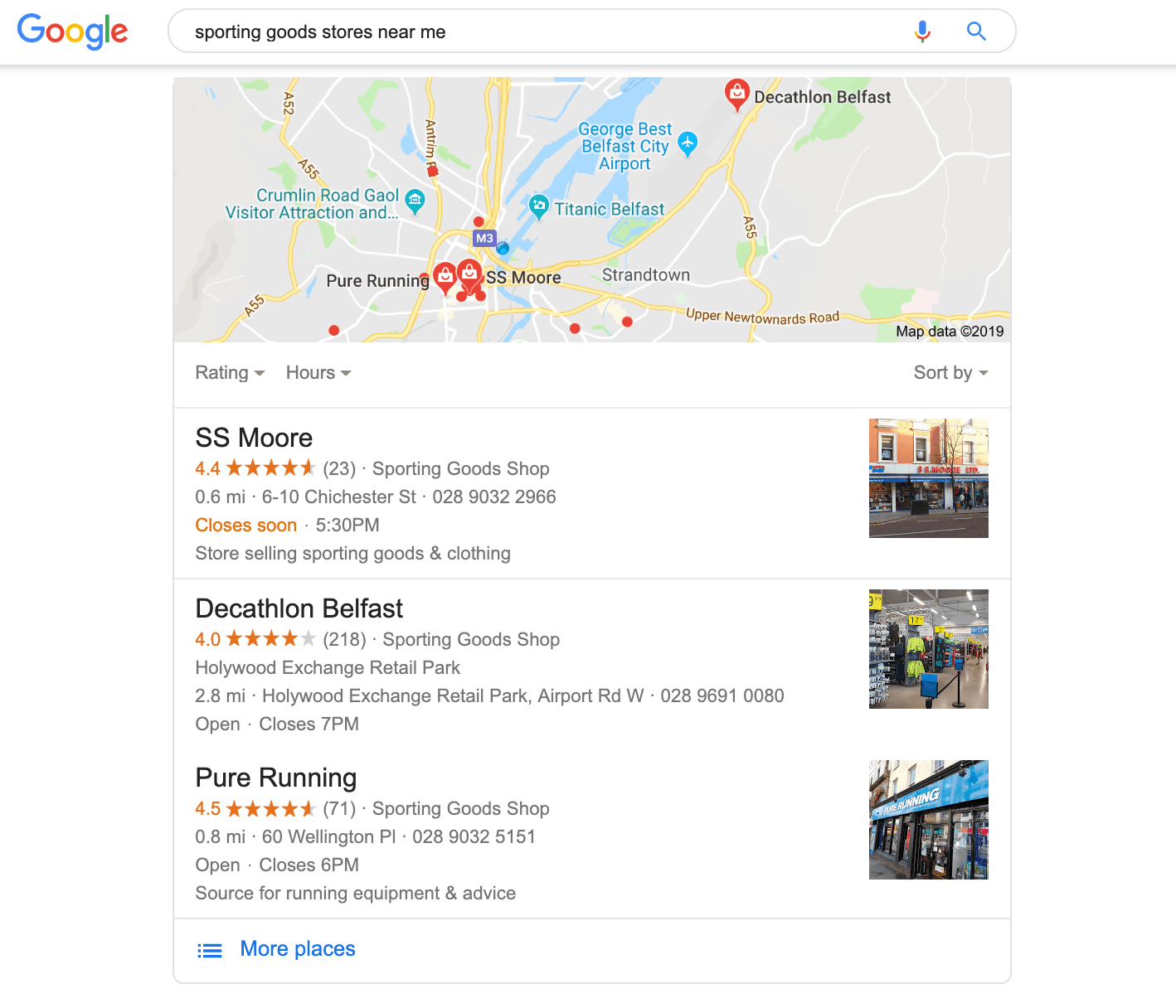 In 2009, the Snack Pack was known as the local 10 Pack, but over the years this has been reduced to three – a move that reflected the growing adoption of smartphones, mobile search and Google's

commitment to optimising the User Experience. It also created a highly competitive race to occupy one of these coveted top spots.
Depending on the amount of information you provide, a snack pack listing can include your business name, address, a link to your website, a short description, contact details, images, business hours and customer reviews. Clicking on one of these listings takes the searcher to an expanded area, which provides even more information, rather than directing them straight to the business's website.
Standard organic search rankings aside, appearing in Google's Snack Pack is the clearest indication that your site is perfectly optimised for local search and has the visibility in search engine results pages to substantiate it.
HOW CAN I ACHIEVE LOCAL SEO SUCCESS?
As search engine algorithms evolve, the tactics involved in optimising your website for local search have become more intricate and engaging an agency to support you in the process can be reassuring. For now, we've outlined some super simple actions you can take to kickstart your local SEO efforts.
Claim and optimise your business listings
Google My Business is a free tool that lets you manage how your business appears in Google search results and the all-important snack pack, as well as on Google Maps – and 56% of local businesses haven't even claimed theirs.
It's important that the information about your business available to searchers online is up-to-date, accurate and optimised – this is an opportunity to show searchers the best of your business! 36% of consumers have called the wrong number for a business because of inaccurate information online – don't waste the opportunity to convert a well-intentioned searcher into a customer!
Add as much detail and media (GMB profiles support both images and video) as you can, including key attributes (e.g. "wheelchair accessible", "pets welcome", "free wi-fi", "cash only"), and relevant business categories. There are over 3000 categories – from audio visual equipment supplier to yoga instructor – and Google allows you to select up to 10 to define your business and its offering. However, you can only select one primary category, which is prioritised in Google's algorithm for ranking purposes, so be specific as possible!

You can also add events and special offers to your profile to show what sets your business apart and incentivise customers reasons to choose you every time.
Go to google.com/business to claim and verify your listing now!
Don't forget – although claiming and optimising your GMB is the most important component of a local SEO strategy, there are other directory listings you should take advantage of, to best amplify your local search presence. These can include Bing Places, Apple Maps, Yelp, Yahoo, Foursquare, Moz Local, and TripAdvisor to name a few. Find the directory sites relevant to your business and industry and populate them with information-rich listings to significantly increase your findability.
This can be an onerous task, so using a tool like the Whitespark Local Citation Finder will help you to manage your local listings, as well as identifying where you should be listing your business to improve local SEO rankings!
Encourage and engage with customer reviews
Reviews and ratings are an incredibly powerful trust signal that have the ability to impact both your local SEO and revenue – a recent survey suggests that 93% of customers say that their buying decisions are influenced by online reviews. It also suggests that 68% of customers are willing to pay up to 15% more for the same product or service if they're confident they'll enjoy a better customer experience.
Reviews carry weight and creating a process for encouraging and engaging with them online is just as important for your local SEO as building optimised online directory listings. If we think about a standard purchase funnel: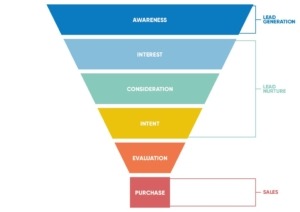 By the time a searcher has started looking at online reviews on your Facebook Page or Google My business listing, we can be confident that they are far enough down the funnel to know exactly what they need and identify the businesses that can potentially fulfil that need – including you. This means that there is a direct (and very critical) link between your brand's online reputation and your bottom line.
The prospect of giving customers an unfiltered platform on which they can tell the world what they really think about you can seem somewhat anxiety-inducing, but reviews are important to both users and search engines – without them, your business will be missing out on a boost to local search rankings and the potential to feature in the Snack Pack.
It's also important not to be scared of negative reviews – they're simply an opportunity to demonstrate your brand's ability to navigate complaints, embrace constructive feedback to facilitate an improved customer experience, and showcase your business's unique personality. Check out this perfect example from Memento Floral Design, a local florist and botanical studio the majority of whose Google reviews are 5 star: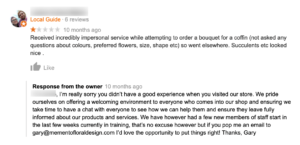 Localise your landing page copy
Your local search ranking is also determined by the content featured on your business's website. Standard on-page SEO practices include optimising the title tags, meta-descriptions, H1 tags, content and media by creating detailed, helpful descriptions that will inform and influence a user's journey down the purchase funnel. These same practices apply when it comes to your local SEO efforts as well.
As Google crawls and indexes individual webpages rather than a website in its entirety, you should include key location info on all pages of your website – business name (in the title tag), address and phone number (in the footer) and links to social media.
Show search engines that your website caters to a local market by subtly incorporating additional detail about your neighbourhood or location, including references to landmarks or surrounding amenities. You can also include the phrase 'near' me to meta descriptions – but only if the text reads naturally and it doesn't descend into a keyword stuffing exercise!

ACHIEVING LOCAL SEO SUCCESS: A 3 SECOND SUMMARY
Create as many directory listings for your business as possible, all with the same accurate, detail-rich information (name, address, phone number, website, opening hours, key attributes and more).
Put in place a strategy to acquire customer reviews and grow your online reputation, whether it's using a reviews widget on your website, sending a personalised email or running a competition to incentivise customers.
Make sure your website's content is localised with references to your business's location and other details to signal to search engines to display your pages in relevant search results.
Local SEO is an increasingly extensive and ongoing (albeit highly effective!) approach to gaining as much local market share as possible for your business. Now you're equipped with the basics, if you find you require a little bit of extra support, our team of local SEO experts are available and happy to help.
Published by Pamela Harte