Why do I need to optimise my website for voice search?
Black Mirror, screenwriter Charlie Brooker's satirical Twilight Zone-esque sci-fi series has garnered a reputation for being unnervingly prescient, particularly in its exploration of imminent technologies. It seems appropriate then, that in a recent interview, Brooker's partner Konnie Huq recounted an instance in which their son, so used to interacting with smart speakers, accidentally called his dad 'Alexa'. For at least half a decade, voice-controlled assistants and search have been heralded as the incumbent technology – a must-have purchase for consumers, and an essential element to which designers, developers and digital marketers must cater.  According to Hitwise, around 60% of Google searches are now carried out on mobile device, a figure that only continues to inflate. According to Google, 1 in every 5 mobile searches is carried out through a voice query. This means that approximately 12% of all Google searches are mobile voice queries.  What once seemed like a futuristic fad is now commonplace – we use Siri, Alexa and Google Home to casually and conversationally set alarms, order food and book taxis. They're ingrained in our everyday life, which means that from a marketing perspective, there are important content and SEO implications that small business and large organisations alike need to consider.  
Voice search is growing exponentially in popularity
The growth in adoption of mobile devices and wearables has resulted in a rising popularity in voice search. This makes sense particularly when you consider that a voice search is almost 4 times faster than typing, and both 78% of teens and 63% of adults love voice search because it's quicker and easier.
Simply by having a conversation with their device, users eliminate the need for typing, facilitating a simpler and more efficient method for getting answers they need to the questions they're asking.
In a commercial capacity, this emphasis on convenience translates into increased opportunity for quick wins from a lead and revenue generation perspective. Voice shopping currently account for $2 billion in consumer spending, and predictions suggest that this figure is set to grow to in excess of $40 billion by 2022. Though this figure is largely relevant to ecommerce companies, the trend benefits brands whose websites are used for lead generation as well.
The most common follow-up action after carrying out a voice search is a phone call, since it allows consumers to continue interacting with brands via their voices. Considering that callers convert 30% faster than web leads and, according to Forrester, inbound phone calls are the most valuable marketing conversions, whether you're an ecommerce company or not, it's time to optimise your site so you can capitalise upon the potential to build a more efficient sales pipeline.
How can I optimise my website for voice search?
Voice search is an increasingly critical component to your SEO success. Below, we've outlined four simple methods for optimising your website and its content for this essential search trend. 
Make sure your content caters to long tail queries 
Voice searches, by nature, are longer and more conversational than traditional text searches. When typing, we often use short phrases because it's quicker and easier. With voice, search engines become a participant in a verbal dialogue.  "Searcher intent" is a phrase used to describe why a user is asking a particular query. Understanding and optimising your site content to cater to this intent is now integral to SEO. How users search for answers has evolved and reflects this shift towards natural speech. Search engines have become more sophisticated, refining their algorithms to prioritise information-rich content that fully satisfies a searcher's intent and answers the question they've asked.   Content creation isn't a keyword-driven box checking exercise. It's about creating a voice for your brand that sufficiently speaks to your audience – in other words, make sure your website's content reads like a human wrote it. It's still good practice to carry out keyword research, looking at metrics such as 'search volume', and 'CPC', but remember to use natural language (think about users talking to their mobiles and voice assistants) and long tail search queries (they could be 5 words or more!) that mirror this.  So 'Digital marketing services'  becomes: 'Are there agencies that provide digital marketing services for small businesses?' Or  'Italian restaurant London' becomes: 'Can I make a reservation for an Italian restaurant that's open late near me?' Or 'Christmas lights fuse' Becomes: 'How do I change the fuse in my LED Christmas lights?' 
Use Speakable Markup
Structured data (also known as schema markup) is a way of invisibly 'marking up' or annotating the content on your webpages in a way that helps search engines to better understand them and decide how well they should be ranked. Think of it as categorising a page type – recipe page, product page, FAQ page - and then tagging all the most important page details- ingredients, product prices, Q&As – to generate richer, more helpful search results! Google recently released structured data that's specific to voice search. Known as 'Speakable', it's used to mark up content that would be useful for text-to-speech (TTS). In other words, it helps Google decide which content is read aloud when using devices such as Google Assistant and Google Home. Webpages with speakable structured data can use smart speaker devices to distribute their content through new channels, extending a website's audience reach.  Schema markup can be added to the header section of a relevant page's HTML, serving as a helpful point of reference for Google so they know what to do with it! Here's an example of what Speakable markup looks like on a webpage: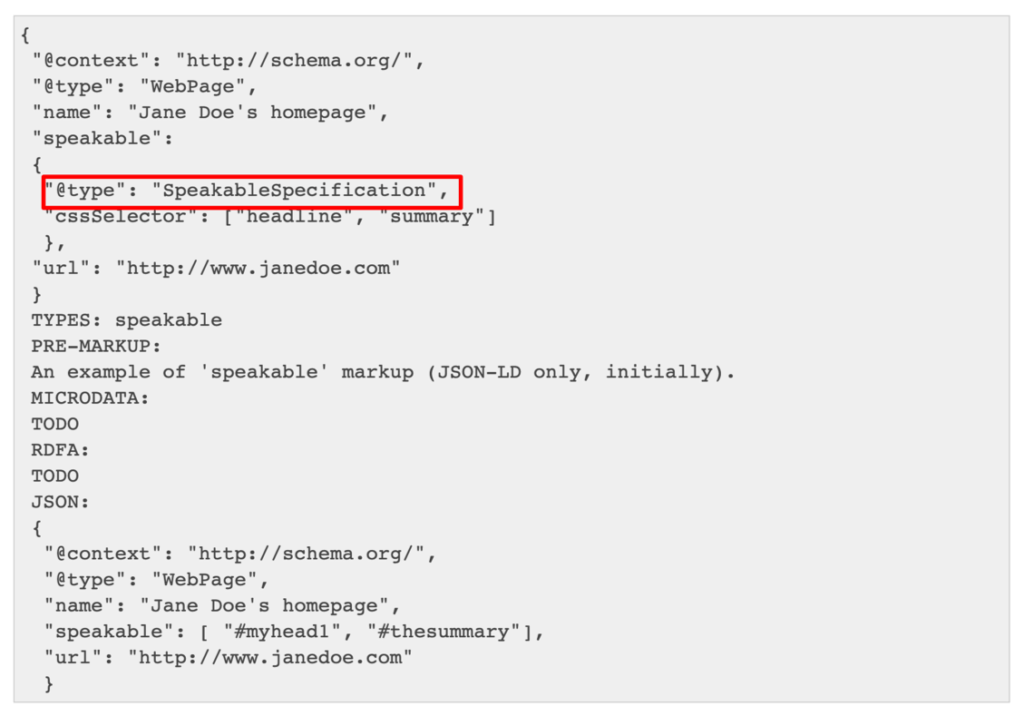 This code is basically telling Google that the 'headline' and 'summary' of Jane Doe's homepage are suitable for text-to-speech conversion through smart speakers. Though it may look overwhelming, this markup is easy to implement with the help of a developer. At the minute, 'Speakable' is in beta, and only supports news articles, though it's inevitable it will evolve to cover all content formats. If your website has a blog or news section, and your brand produces informative articles, it's advisable to mark them up with speakable structured data. When doing so, make sure to:  
Give your articles concise headlines

 and/or summaries

 that provide users with valuable, useful information

 
Avoid highlighting an entire article

 with structured data and instead focus on key points. This means that Google will read this out, rather than cutting off potentially important details.

 
Mark up approx. 20 – 30 seconds

 worth of content per section of structured data, as per Google's recommendation. This translates to 2 or 3 sentences at a time!

 
Don't forget to test your markup using Google's Structured Data Testing Tool by pasting your markup into the tool. After the page is published, you can check the URL to your page to verify your markup again. 
Make Sure You Have an FAQ Page! 
We already know how important it is to create content that answers the essential questions your target audience is asking. This is why voice search results are 1.7x more likely to come from an FAQ page compared to desktop results. FAQs provide the perfect opportunity to rank for hundreds of different search queries in a single page.  Search engines and users alike love FAQ sections because they instantly demonstrate your commitment to facilitating a positive user experience through helpfulness. In other words, you're catering once again to that all-important user intent.    
Research the most popular questions 

your potential and existing customers are asking, to 

guarantee maximum relevance.

 This could involve

 asking frontline members of staff like customer service representatives, conducting keyword research using tools like Answer 

The

 Public or combing forums like Quora and Reddit

.

 

Use FAQ 

structured 

data 

for Google Search and Assistant. Designed for FAQ pages, this markup helps Google display questions and answers

 in search results more prominently. 

 
"I'm not sure I understand" - setting realistic expectations around voice search
The adoption of voice search is increasing in volume, but it will take time before it achieves mainstream appeal over text queries. Until speech recognition is refined enough to accommodate speech impediments, and users who have accidentally misspoken, voice search is unable to deliver an entirely frictionless user experience. However, these are issues that can ultimately be resolved, especially in light of the fact that Google's ability to understand language, with 95% accuracy, is nearly equivalent to humans. Optimising for voice search means establishing an early competitive advantage, something we always recommend to our clients. According to entrepreneur and investor Mark Cuban, 'there's no future that doesn't have ambient computing or voice activation', which is why brands should equip themselves to the best of their ability now.  
'You have to be there early… even though you might not get a lot of traction early

 on, you get the strongest understanding.'

 
If you'd like advice on whether your brand should be embracing voice search, or are interested in benchmarking your search performance overall, our team of SEO experts are happy to help. In the meantime, we'll leave you with some of our favourite #alexafails: