Robyn is the latest recruit to our growing Account Management Team. Joining us from a Marketing Agency in Manchester, where she managed digital and promotional marketing campaigns for a global hygiene and health brand.
Previously she was based in Dublin, managing Corporate and Government Accounts for an International Media company. With a background in Communications, she studied English Literature, Media and Communication Studies in Liverpool. It's great to have her back in Belfast, joining us as an Account Manager.
We asked Robyn to give us an overview of her first month in her new role, to give you an insight into life at Zesty!
The Zesty Welcome
My first week was busy, meeting with the Heads of each Department individually, for an overview of their role and their Team's responsibilities. It was great to get an understanding of how Zesty operates as an Agency and how the internal teams collaborate on Projects. The fact that there is a stand-alone User Experience (UX) team is something that really stood out for me, UX plays a central role in Zesty projects, something I'm keen to learn more about.
On my first Friday I was treated to lunch with Client Services Team, it was great to meet everyone outside of the busy office environment.
Out and About
I joined the UX Team to meet with a client in Dublin, we were hosting a UX workshop which focused on requirements gathering and understanding objectives for a large-scale intranet project. The workshop was led by Zesty but had full involvement from the client team, they embraced the exercises and we uncovered some really important insights about users and their key tasks. It was great to be a part of the discussion and see the UX process in action. I'm definitely keen to join more of these sessions, the insight into a client's Business is invaluable.
I've taken part in presenting concepts to clients, I've enjoyed listening to their feedback and sharing in the excitement as their website project really starts to take shape and they can see the beginnings of their new site.
'Hello, Robyn speaking'
During my first month I've been helping the Account Management team manage enquiries from our clients. It's been a great way to get a feel for the type of enquiries clients contact us with. I've enjoyed liaising with clients over the phone and getting familiar with their websites and projects.
What I'm looking forward to next…
I'm looking to forward to attending my first client kick-off meeting this week, taking ownership of my projects and being the main point of contact for clients.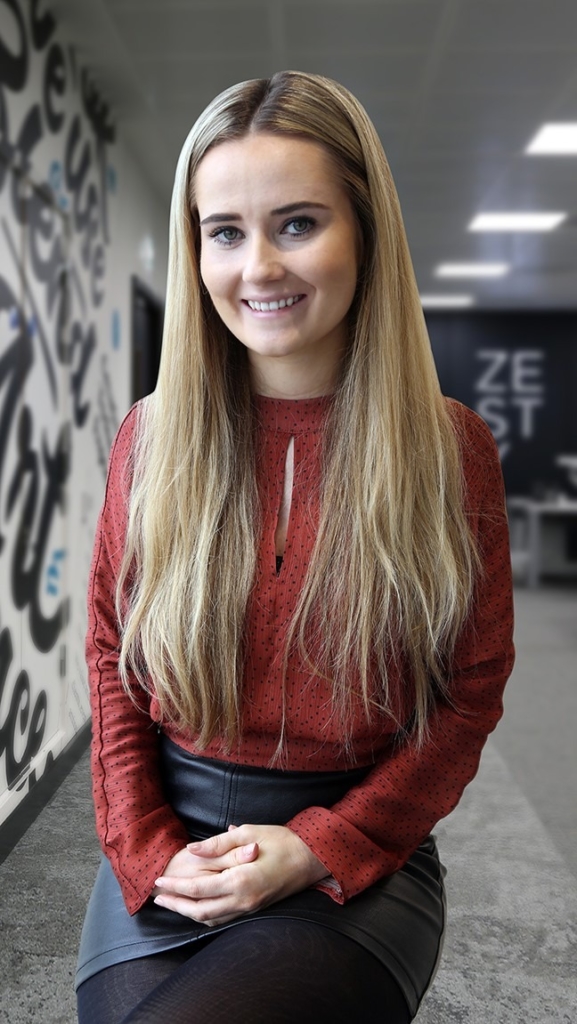 Interested in working at Zesty? We're always keen to hear from individuals who would be interested in joining our Team. Visit our Careers page to view latest vacancies. We are also happy to accept CVs which we will keep on record for consideration should a suitable role become available. Send your cover letter and CV to jobs@simplyzesty.com