Today is International Women's Day, celebrating the social, economic, cultural and political achievements of women across the world. This year's campaign theme is #BalanceforBetter, a call for us all to take action to help drive gender balance across the world.
We're marking International Women's Day by celebrating the achievements of our female colleagues! We're proud that almost half of our team (43%) is female and we encourage women to actively participate within the digital community as exciting opportunities are ever increasing.
We've asked a few members of our team to share their career achievements and inspirations to date, to give you an insight into the vast experience and talent our colleagues bring to their individual roles.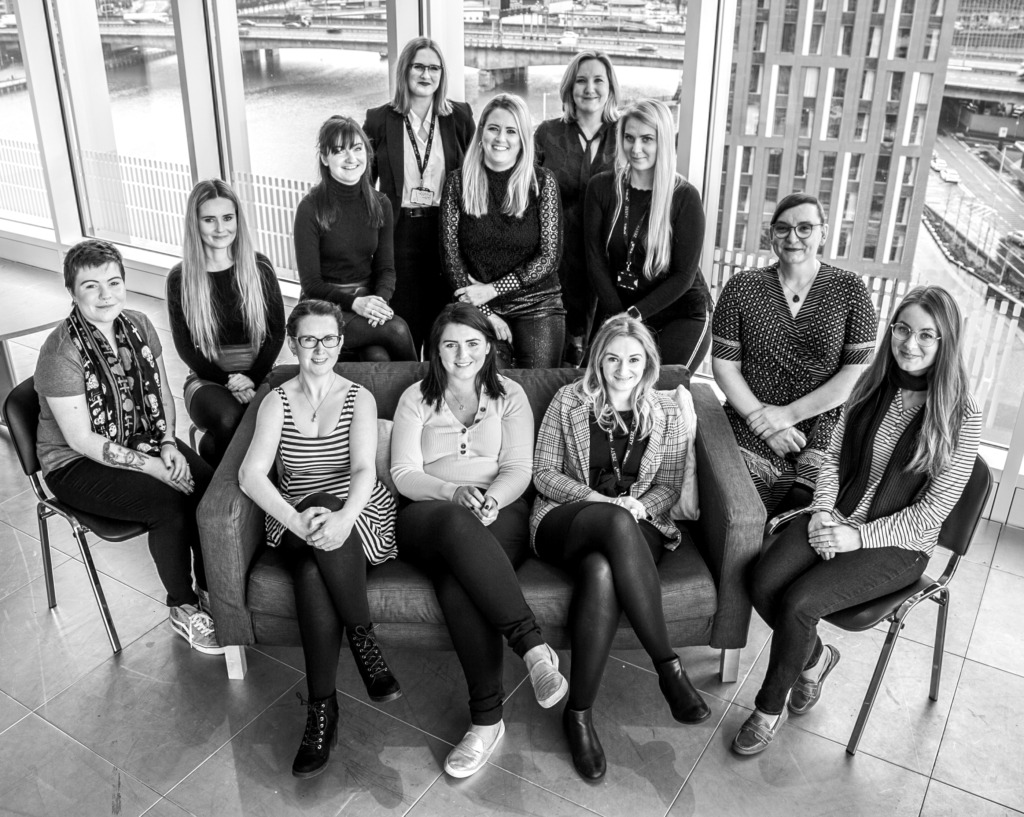 (Back row , L-R: Sophie & Louise. Middle row, L-R: Robyn, Kathy, Laura O, Lijana & Brooke. Front row, L-R: Niamh, Laura M, Pamela, Lauren & Emma.)
Tara Leathem, Head of Business Development
Previously managing her own Digital Agency, Tara joined Zesty last year to manage our New Business and Marketing activity.  
"I ran my own Digital agency for almost 9 years before it was acquired by Zesty – this is my highlight, as Zesty is an award-winning business and I get to work on some great projects. I get to travel and meet lots of really interesting people. As you read this, I'm in Berlin at a conference… what's not to love?
My inspiration is working at Zesty, everyone is on their A game and I'm proud to be part of the team! Recent achievements are winning contracts for Creative Ireland and Limerick Institute of Technology – through a tough and competitive tender/ presentation process."
Laura O'Kane, Account Manager
With a background in Account Management, Laura joined us last year and has been working with clients including GAA, Brecon Beacons and safefood.  
"I started my marketing and advertising degree the year Facebook was created (2004, in case you are wondering) – it focused on modules like print media and broadcasting as the most innovative avenues of consumer communication – to think that digital advertising didn't feature in any of my studies back then seems crazy!
I had been working professionally for about 5 years when I decided to go back to do a part-time degree in digital marketing – the scariest thing for me was being left behind in such a fast-paced, changing, advertising industry.  I had hoped it would open doors to companies that were industry leaders, without taking that chance I don't think I would have had the confidence to go for this role within Zesty.  I now work with exciting, varied clients and I am still learning and experiencing new things daily and I love that challenge."
Kathy Michael, Account Manager
Kathy has been with Zesty for over a year and is part of our Account Management Team, working with clients including Visit Somerset, NIE Networks and Ulster Orchestra.
"I have worked in the fast-paced world of digital agencies for 5 years and in that time have gained vast knowledge in the website industry, as well as the importance of developing strong client relationships when delivering successful and innovative solutions that help businesses to thrive in their own markets.
I'm always seeking to increase my skillset and in 2017 I received a Distinction from CIM's Professional Certificate in Marketing, specialising in Digital Marketing. In my role at Zesty I'm proud to work closely with many respected organisations from across the UK and Ireland, managing accounts for clients such as NIE Networks, National Museum of Ireland and most recently, my first European client EURORDIS – Rare Disease Europe, based in beautiful Paris!"
Laura McAvoy, Account Manager
With a background in project management, Laura has been managing projects within the Zesty Account Management Team for over 2 years.
There are a number of career defining moments for me in life which I'm very proud of; from presenting at conferences worldwide from Costa Rica to Barcelona and everywhere in between, to my time in industry where I've been recognised and rewarded throughout EMEA for going above and beyond in my role, and more recently working with Zesty. At Zesty I am inspired by the individuals within it every day, who continue to push me to achieve my best. Being the account manager on the award-winning Meet in Ireland project definitely has to be my highlight to date.
Pamela Harte, Digital Campaign Manager
Pamela joined Zesty in March as Digital Campaign Manager and will be working alongside our Strategic Lead Sophie to launch our new digital marketing service offering to clients.
"I'm excited for the new challenge in Zesty and to create a full-service digital agency. There is a fantastic base of existing clients currently working within the agency. My goal is to take these clients a step further and drive successful online campaigns. Recent achievements include running successful ecommerce campaigns on Facebook and Google Search for Electric Ireland and Array Aesthetics, delivering results of an annualized ROI of 757%."
Find out more about the events and activities taking place to celebrate International Women's Day on their website.