Every digital touchpoint you create between your brand and its customers, from marketing emails to the contact form on your website, combine to create a lasting perception of the kind of company you are.
Technological advancements in an age of automation have gifted us seamless, streamlined, personalised experiences in every aspect of our lives – from ordering food through Deliveroo, to booking cabs with Uber, to contactless in-store transactions with Apple Pay. This culture of immediacy has transformed the way we interact with brands and raised consumer expectations to the point where a poor User Experience could easily cost you a potential conversion or customer.
According to Salesforce, 75% of consumers expect a consistent experience wherever they engage and 87% of consumers think brands need to do more to provide a seamless experience.
So, what does this mean for your business?
What is User Experience? Why Does it Matter?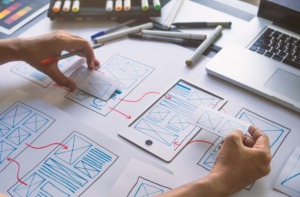 User Experience (UX) focuses on the interactive journey on which you bring your customers, which caters to their preferences and satisfies their needs. In a digital context, UX covers how a user engages with your website, including their behaviours (which pages do they view? How long do they spend viewing them?), actions (are they filling in a contact form? Or making a purchase?) and overall satisfaction (Will they return to your website? Use your service again? Re-purchase your product?). Equally important is the fact that UX covers the emotions of a user. How do they feel when they're on your website? Are they frustrated by clumsy navigation that doesn't allow them to find information easily? Are they irritated by clunky functionality that makes it difficult to complete a desired action? These feelings can dictate whether or not a user will return to your website or recommend your brand to a friend. Simply put - if your website provides a good User Experience, a user shouldn't notice it. If it's bad, you'll know about it.
It's commonly accepted now that any effective customer-centric commercial strategy should start with your business's website. First impressions count, and your business is an online extension of your brand that allows you to showcase the products and services you provide, and the value you can offer. Taking into account the ever-shortening human attention span, your website's homepage gives you only a few precious seconds to make a positive impact on a prospective customer, through super slick design and user-friendly functionality.
By gaining an understanding of what your target audience are actually doing on your website, you can identify its strengths and weaknesses and make adjustments that will guarantee a positive user experience and help you to accomplish your commercial objectives.
Good Research is the Key to Good Design (And a More Profitable Website!)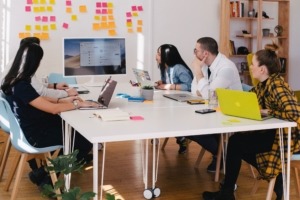 When it comes to optimising your website for your business goals, the best design decisions are often data-based. Research and real user insights not only ensure the best possible UX, they cut through the awkward obstacle that personal opinions can sometimes pose. It's helpful when you're engaged with a digital agency, as this data can be used to navigate the assumption that either internal senior stakeholders' intuition or a designer's experience alone can make a great website!
This is where a thorough UX plan comes into play – we'll gather data, and key stakeholder feedback and translate them into actionable insights that will improve the usability of your website and the emotions it elicits in its users.
At Zesty, we never design a website without the required research! We've broken down our approach to UX research that will help you to understand why a website with good UX can teach you more about your customers and maximise your business value as a result:
User Interviews & Workshops
Qualitative research methods such as UX workshops help us to create better experiences for a client's target audience by finding out about their needs, preferences and problems. This helps us turn a manual task into a seamless digital experience. In other words, if a client's website didn't exist, what would they have to physically do to fulfil their customers' needs? Take Amazon, for example? Without a website they'd have to design and print catalogues containing information for hundreds of thousands of products, and physically mail them to millions of customers across the world.
Ideally, workshops are conducted face-to-face, though they can also be done by video conference. With an in-person approach, individual concerns and priorities can be navigated directly and we get the benefit of picking up additional nuances such as body language and small verbal cues that we wouldn't have otherwise.
Carefully crafted questions, asked correctly and followed up appropriately, can bring unique benefits to your investigation. For example, rather than 'yes' or 'no' questions which won't yield much insight, a non-leading, open approach helps to get more out of a user and encourages more thorough responses. The more information we can glean, the easier it is to make recommendations that will empower us to solve users' problems and achieve your business goals.
Competitor Analysis
The more you know about what your competitors are doing, the greater your opportunity to get ahead and capture more market share. This is particularly important in a digital context, in which consumers are empowered by more choice, better awareness, and the self-assurance of their own value to brands. There's mounting pressure on businesses to put their best foot forward and provide the best possible online user experience.
By taking the time to evaluate your competition and their websites, we can identify their strengths and weaknesses. From this, we can learn from their failures and avoid making the same mistakes, and replicate their successes, building upon them to make your website even better.
There are a variety of easy-to-use tools available that will help you to both identify and analyse your competitors. It's important to remember that the businesses challenging your offering online might differ from the ones you would view as competitors – so even if you think you know who the immediate threats are, it's always been to qualify it with data.
We conduct competitor analysis by considering the following elements:
Brand messaging. What are your competitors saying about themselves across their website, social media, brochures and press releases?
Website content. What types of content are your competitors creating? Which formats do they use? Whose needs are they trying to meet, and are they succeeding?
Social media. Which platforms do your competitors use. Who do they engage with? How active are they? What do they post?
Which search terms are your competitors ranking for? Are they ranking above you? Are there search terms for which they rank that you don't?
Persona Definition
Who is your website for? Who is it not for? These are simple questions that are often overlooked when designing and building a business's website. Using data from user interviews and surveys, we can build accurate representations of your website's core user groups, identifying their key requirements, motivations and behaviour patterns.
Persona definition is essential to creating the optimal personalised User Experience. The better we know and understand your audience and how they're currently interacting with your business, the easier it is to create an exceptional website that communicates your Unique Value Proposition and supports your commercial strategy.
Much like your business, and its products and services, your audience personas will evolve over time. By regularly assessing, updating and referring to your personas, you can remind your business to think of its customers as 'real people' and prioritise real-world problem solving.
We build your audience personas by asking the following fundamental questions:
Who is the person we want to understand?
What situation are they in and what is their role?
What jobs do they need to get done?
What do they see in their marketplace?
What have we heard them say?
What behaviour have we observed?
What are their fears, frustrations and anxieties?
What are their wants, needs, hopes and dreams?
How You Can Tell if Your UX is Poor (And Your Bottom Line is Suffering!)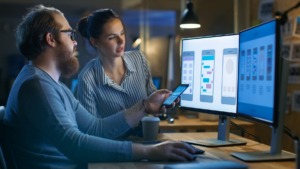 It's easier than you might think, to self-diagnose your website's poor UX at a high level. Are customers calling reception or sales reps rather than submitting their enquiries through your website's contact form? Maybe your app is getting poor ratings and reviews. Or your sales reports could be showing conversion rates in steady decline.
Sometimes, it's just an innate feeling that will tell you your website is clunky, outdated or no longer fit for purpose. Whether its intuition or a Google Analytics dashboard, these are all tell-tale signs that it's time to bring in a UX expert.
We can confirm your suspicions by combining empirical research such as UX workshop feedback with quantitative data gathered using analytics tools. This helps us to create a tangible baseline against which we can define our design approach and create a benchmark for your UX success based on your business goals.
Tools like Google Analytics aggregate metrics which show whether or not your website is meeting these goals, and whether or not site visitors are taking the desired actions that will ultimately generate revenue. Are they hitting a product page but failing to make a purchase? Are they clicking a 'contact us' link but stopping short of filling in a contact form?
These kinds of insights facilitate data-driven design decisions that boost conversions and improve UX. The Users Flow Report in Google Analytics, for example, provides information on the countless journeys visitors take through your site, allowing you to compare volumes of traffic from different sources, examine traffic patterns and gauge which user journeys are most popular and/or effective.
Heatmap analytics tools such as Hotjar provide a distinct visualisation of the user journey – such as where they're actually clicking, tapping and scrolling on a webpage. This data eliminates any guesswork by showing you real human behaviour and helps us to take efficient, effective action to optimise your site accordingly!
Poor UX? Here's What You Should Do
For many businesses, testing and analysing User Experience can seem like an overwhelming task. However, the bottom line is if your website has out-of-date content, a confusing navigation or isn't mobile-friendly, it'll be difficult for your users to find what they need. If they can't find what they need, it's they won't purchase your product or take another conversion-based action. In fact, according to Adobe, nearly 40% of people will leave a website if the content or layout is unattractive!
If you've come to the realisation that your website isn't providing the best possible User Experience, start taking steps to improve your performance! This kind of self-awareness and willingness to evolve is how you can deliver value for your users faster and more effectively. By taking the time to improve your website's UX, you're actively helping to guide your website visitors along an easily navigable conversion path, providing improved customer satisfaction and profitability.
Whether you're deciding to streamline your checkout process, or simplify your site's navigation, your overriding priority should be to ensure your customers encounter as few obstacles as possible on their path to conversion. If you're interested in assessing or improving your website's UX, we're here to help! Our expert UX team is dedicated to the exploration and creation of innovative ways for businesses to better connect with their customers.