Alexa Premium Skill for English Premier League Live Radio Coverage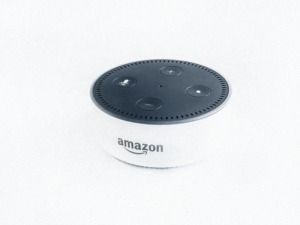 Creating a paid-for Alexa subscription service for a premium brand
In April 2019, talkSPORT asked us to create a brand new paid-for Alexa skill aimed at the North American market.
Helping a Premier League broadcaster leverage its investment in football rights
talkSPORT owns the digital and broadcast audio rights for the English Premier League in the USA, and globally ex-UK & EU. Amazon has recently launched in-skill payments in the US and talkSPORT seized the opportunity to create a skill to provide  audio coverage of every single English Premier League football match throughout the season.
The English Premier League match coverage is available to Amazon Alexa users who enable the Premier League Live skill and purchase a subscription. Each subscriber can choose to listen to every match, set their favourite team and get daily EPL updates.
Building on what we already knew to create something brand new
We had gained first-hand experience in working with the Alexa platform for other Wireless radio stations in the UK and Ireland, developing and delivering built-in capabilities – also known as 'skills'. Alexa skills include everything from being able to provide weather forecasts, to controlling lights and other devices in the user's home.
But talkSPORT wanted to take advantage of the in skill payments and develop an entirely new offering to maximise the rights potential. The feature is currently only available in the USA, so we had a significant learning exercise to complete in order to understand the capabilities of paid-for Alexa subscriptions. There were challenges around the payment mechanisms and UX considerations that were new to us and new to talkSPORT.
Engage and assure through free-to-all elements
With the development of a premium skill it is critical to also create an unrestricted 'pre-paywall' element – a proportion of the skill's features that is accessible to all users.
For our Premier League skill, this meant that when a standard user opened and engaged with the skill, they would be shown a list of upcoming fixtures and offered a daily football news update. A free trial period would provide full access to all the skill's features to incentivise the user to ultimately subscribe. Amazon was clear that the first step in the Skill would be about building user's trust and engagement with the value proposition, long before asking for dollar payment.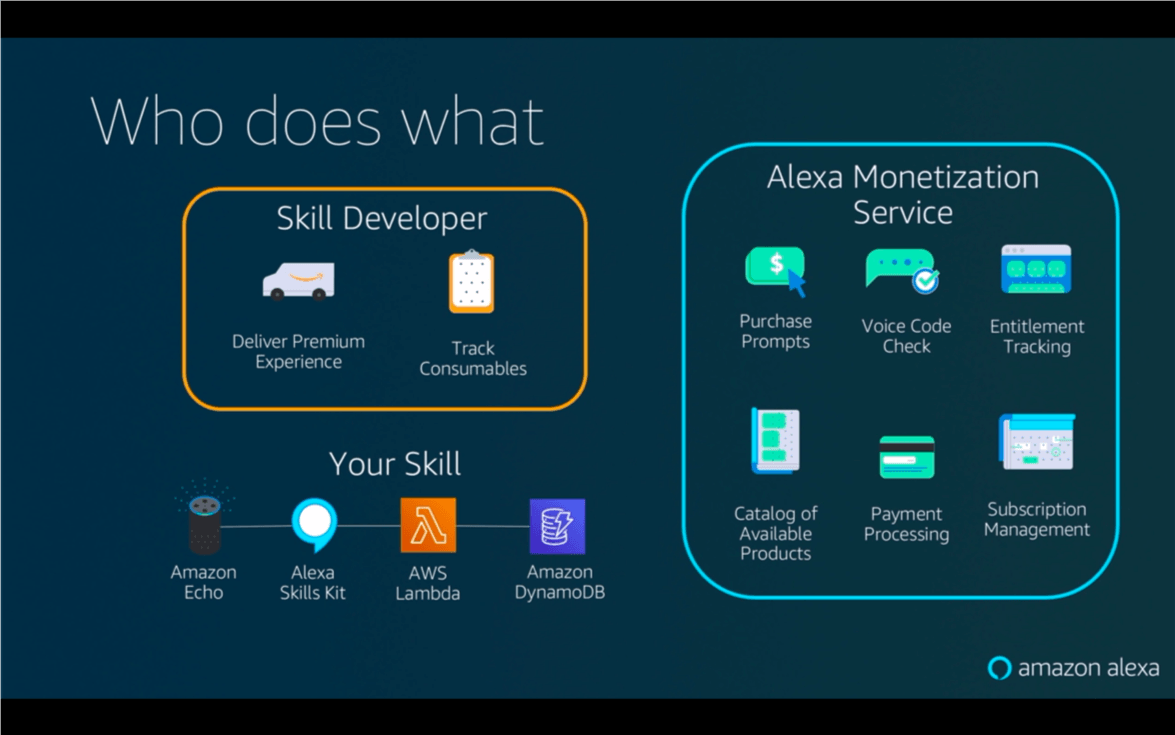 This was good learning we took from Amazon: the need to assure and engage every subscriber before any notion of monetisation is even introduced. Their experience in patiently developing User interest 'pre-paywall' was interesting to say the least.  We think this is probably truer in Voice based subscriptions than it is in 'normal' media subscriptions.
Voice UX and Alexa User Journeys
Our first step was to create a multi-party team, meeting primarily at Amazon's Shoreditch London offices. We also worked extensively via online meetings and video conferencing via Amazon Chime. This team was made up of Zesty UX and Business Analysis, Zesty Development, talkSPORT business inputs, with further advice and expertise from the Amazon architecture and marketing teams.
The primary task was to create a 'conversational model' between a user and their Alexa-enabled device.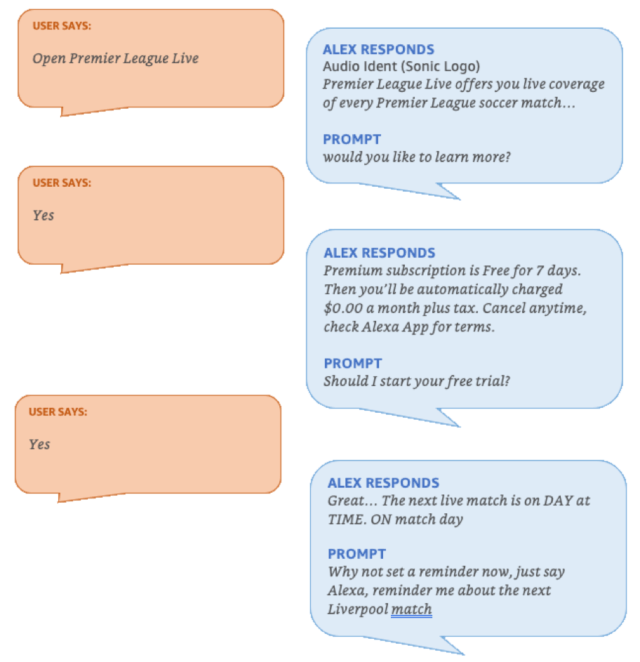 This entailed anticipating the potential dialogues between a user and Alexa – what questions might they ask, and what answers might they want to receive from Alexa.  We then added notes on how we could best deliver a solution based on these user needs and any considerations in either the user request or Alexa's response that would need accounted for.
This fun but it was challenging. Due to the commercial confidentiality, and short timelines,we couldn't recruit end users for observation or for group based research. Our reference points were limited too – this was new to everyone involved, so we were building up a Voice UX framework as we progressed through the requirements stages.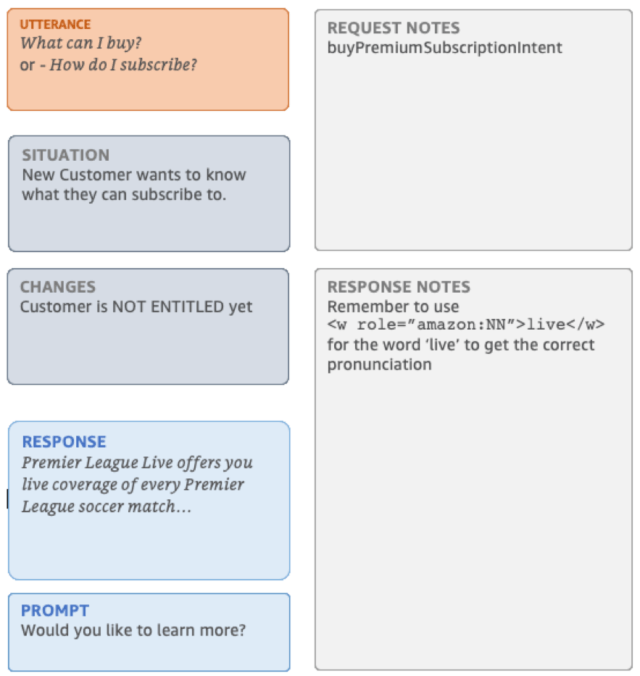 Visualising Voice
Another important consideration was how the Premier League Live skill would be adapted for Amazon devices with screens – our UX team mocked up visuals to demonstrate its use on Echo Show, Echo Spot and Fire TV, which included displaying the League table on screen.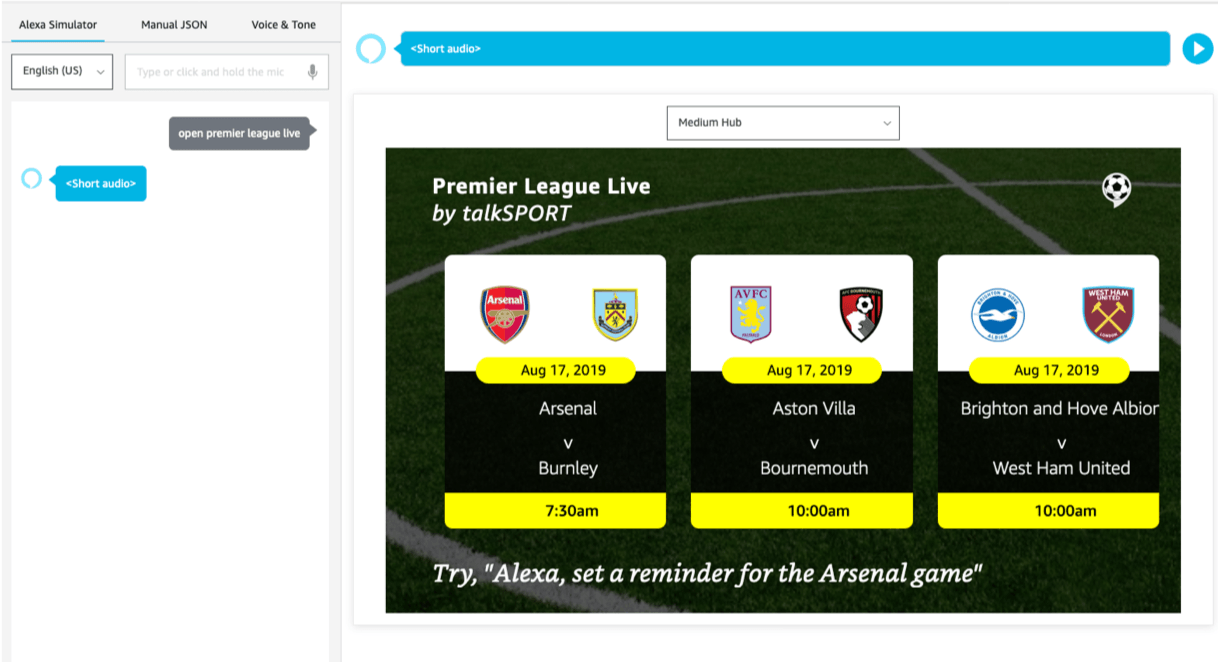 From definition to delivery 
After defining our conversational model, it was passed on to our development team. The skill's development was split between the Alexa development dashboard console (a suite of tools and services that enable a developer to build, test and sell apps in the Amazon Skillstore) and pure code.
Our objective was to deliver an MVP (Minimum Viable Product) with sufficient features to satisfy key user intents – working with a main task that a user would want to accomplish, and the conversational flow around that task. This was due primarily to time constraints (the Premier League season was only weeks away). So we prioritised the 'launch' and 'play live' intents, before adding on additional features.
We developed a series of visual and voice prompts through which a user would be guided, to take full advantage of the skill's capabilities. These included:
Setting a favourite football team, which would streamline future interactions and maximise user convenience
Setting a reminder for matches played by a user's chosen team. This would ping a notification to their Alexa app five minutes before kick-off. (This also meant that on match day, if a user used the utterance 'open Premier League live', Alexa would automatically stream the match featuring their favourite team.)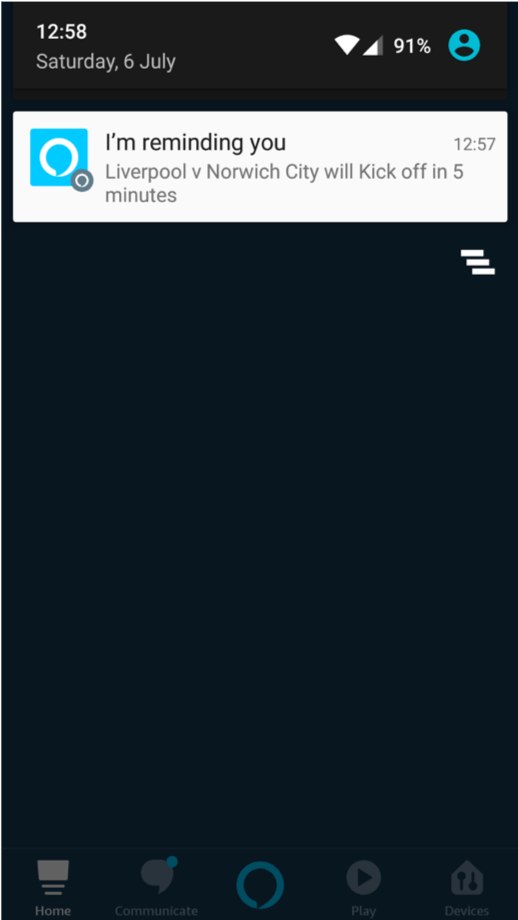 Displaying the league table. This utterance would be compatible with devices both with and without screens.
For users without a screen, they would be told the top 4 teams, and the full table would be sent to their app.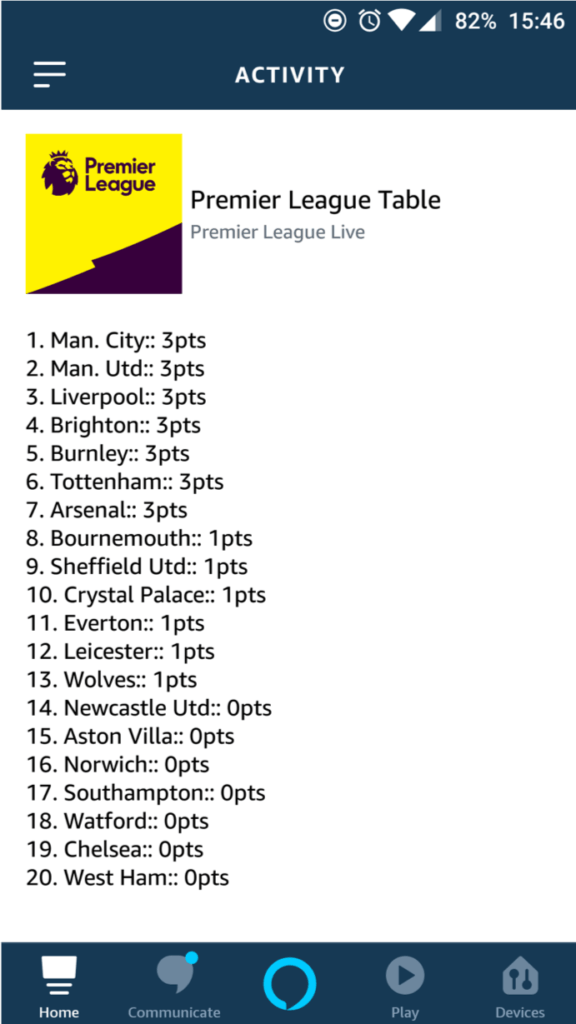 We tested each of these features through the development console, which also shows previews of how any responses might look on a screen-based device.  But really, there's no substitute for testing on a real device, so  talkSPORT provided Zesty with a suite of Amazon Alexa smart speakers to complete our testing.
Finally, we submitted the Premier League Live skill to the Alexa skill store and awaited certification from the Alexa skill team.
By the end of the project we had utilised a variety of features:
The In-Skill Purchasing API, which enabled us to seamlessly sell our premium subscription within the Premier League skill with a custom interaction model.
The Reminders API, which enabled us to create and manage reminders from our skill.
The Alexa Presentation Language, which provides the flexibility to include many visual elements such as graphics, images, and slideshows and tailor the display for different devices.
Progressive Responses, which allowed us to include 'sonic logos' (a short, distinctive melody for brand recognition), and other engaging content to users while waiting on the full response from Alexa.
Delegate directives for complex conversation flows. If Alexa asks a user a question to which she wants a 'yes' or 'no' answer, to be able to respond to your answer, she needs to remember what she asked you in the first place! This is achieved through the use of handlers that keep track of the dialogue so we can programmatically guide the customer to the correct intent.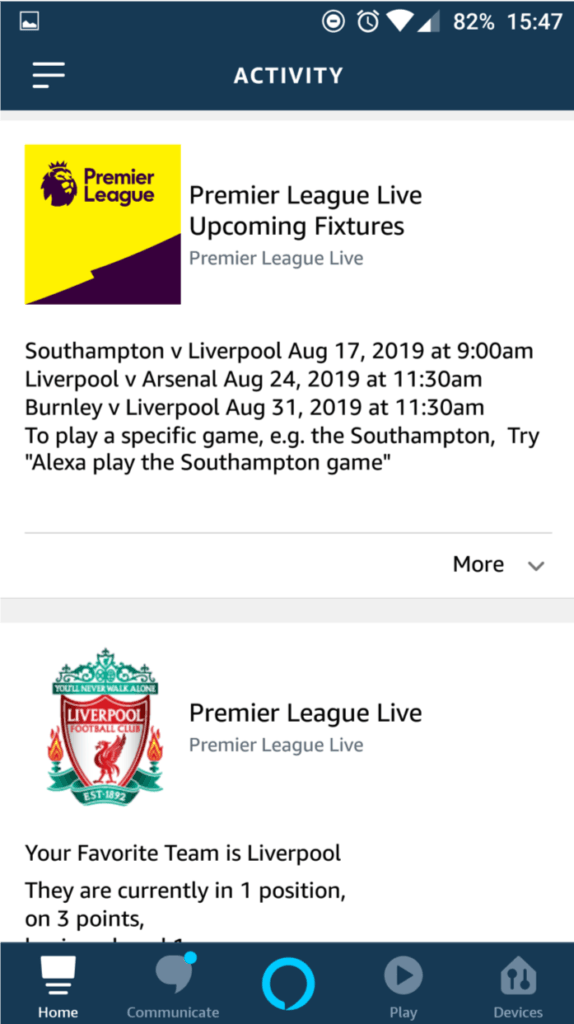 You say 'football', I say 'soccer'
The project was fun but came with some unexpected challenges.
One fundamental: we had to support the user's identification of their favourite team in the Premier League. But this list of Premier League teams can change every year due to promotions and relegations. Some of the project members believed that American listeners might change allegiances depending on the success of their team during the season. That wouldn't really be common with British football supporters. To accommodate these cultural differences and league promotions, we programmed the skill with the names of every football team in the top 4 divisions.
We also had to consider the nuances of dialect and how users referred to their team, whether it be the official team name or a shortened form – for example, Manchester United, Man United, Man U. We circumvented this by using synonyms, which allowed us to create a series of official team name entries and map them to other terms a user might employ. And yes, we had to think through the more 'colourful' descriptions of opposing English football teams!
This tactic is one we applied to many aspects of the conversational model. As we were targeting the US, we had to accommodate variations in dialect – 'soccer' and 'football', 'match' and 'game' etc.
The Alexa testing process is very robust and often came back with some very unexpected required updates – we had to localise the word 'favourite' and apply American spelling even though it was only used verbally and never visually.
The U.S. market encompasses a number of timezones, we had to take this into account when listing out the Kick-Off times of the live games to ensure that the user heard the correct kick off time in their local timezone, we did this by extracting the Echo device location and re-calculating the kick off times according to that location.
Voice is a great way to ask for information quickly, but as it turns out, it's not always the best way to get the full answer.
The cognitive load required to process a long answer can be too much at times.
For instance, the league table – it simply contains far too much information to read out.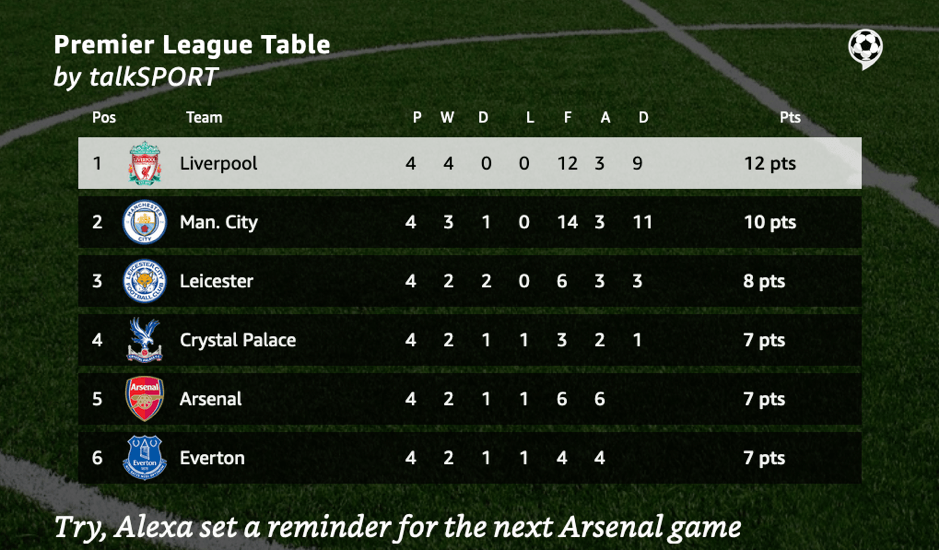 To get around this we limit the amount of information we speak back to the user, but instead supplement that by allowing the user to ask for more (fixture listings are spoken 3 at a time), or by sending a full list of information to their Alexa Phone app (e.g. a summary league table), or where possible, by utilising screen support on Echo Show and Fire TV devices where we can show the most information.
---
The talkSPORT Premier League Live skill for Alexa-enabled devices is now live and available for download in the USA. If you're based there, feel free to take the available 7-day trial – we'd love to hear your feedback.
We develop free and premium Alexa skills for businesses across the UK and Ireland, based on proven Voice UX.
Could your business benefit from the power of Voice?
Published