The Spider Awards are established as Ireland's premier digital technology awards, 2018 marked their 23rd year recognising and celebrating excellence and innovation across Ireland's digital industry.
This year the Spiders joined the renowned 'Dublin Tech Summit' family and rebranded as 'Spiders X'.
Sponsors - 'Best in Education & eLearning'
We were delighted to be sponsoring the 'Best in Education & eLearning' category, which is awarded to a platform or project which innovatively uses existing or new information technologies to enhance online learning, further an education mission online, communicate the need of education or provide informational material to current or prospective students.
This year's winner was Setanta College for their 'World Rugby e-learning' project, which delivers a range of online rugby conditioning programmes for coaches worldwide. To date 35,000 participants around the world have enrolled in their World Rugby e-learning programmes.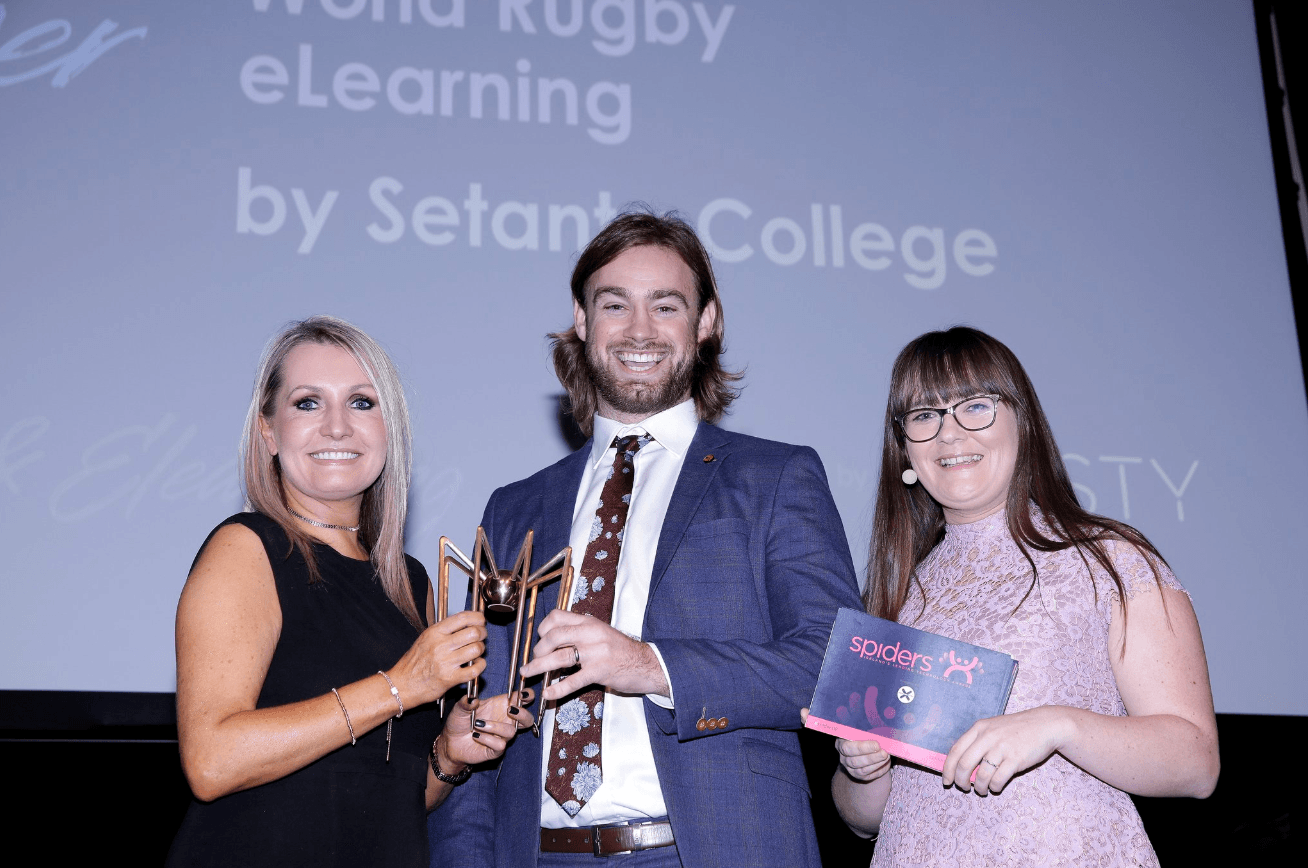 Zesty's Head of Business Development, Tara Leathem presenting the 'Best in Education & eLearning' Award to Setanta College.
Making the Shortlist
We travelled to the RDS Concert Hall for the Awards night. Delighted be shortlisted in two highly competitive categories - 'Large Agency of the Year' and 'Best in Travel, Tourism & Sport' for our work with Fáilte Ireland on our 'www.meetinireland.com' project.
Meet in Ireland – Fáilte Ireland
We were nothing short of ecstatic to win the 'Best in Travel, Tourism & Sport' Award for our 'Meet in Ireland' website project with Fáilte Ireland.
Zesty have been a trusted website design and delivery partner for Fáilte Ireland since 2010, throughout our long-standing relationship we have delivered award winning projects including 'VisitDublin.com' and 'WildAtlanticWay.com'.
We have extensive experience within the Tourism industry and we pride ourselves on producing best in class Tourism and Destination websites for our clients.
Our Approach
The 'Meet in Ireland' project involved the delivery a new website which would act as Ireland's shop window for international meeting planners. It would be the primary tool in promoting Ireland's MICE (Meeting, Incentive, Conference and Corporate Events) reputation as a knowledge economy and used to developed business tourism destination awareness for overseas users.
Meet in Ireland's Success
Since launch the website has delivered exceptional results for the Fáilte Ireland team. Delivering opportunities and conversions far superseding expectations.
The site itself has experienced 75% increase in visits – an impressive uplift which demonstrates the improvement of Meet in Ireland's website offering. There has been a 64% increase in users, all of which are new users to the site, this is significant as attracting new visitors was a key objective of the project.
A big thank you to the Meet in Ireland team for their collaboration on the project, their team's commitment and knowledge has been central to the project's success, the website has delivered 80 opportunities worth in excess of €35m to date, less than a year since launch.
"Zesty has successfully delivered on our objective to build a best-in-class website for Ireland's business tourism offering."
Daragh Anglim, Head of Marketing & Digital, Fáilte Ireland
Read our 'Meet in Ireland' case study here.