Recently we were delighted to welcome Niamh to our Client Services Team, in the role of Account Executive. Niamh has proved herself to be organised, an excellent multi-tasker and brings with her a wealth of customer service experience.
We asked Niamh to give us an insight into her first month of life at Zesty!
Looking after our clients
"Over the last month I've enjoyed getting to know our clients from far and wide, communicating on a daily basis via email and telephone. I feel a real sense of achievement when tasks and requests are complete and I can contact clients to let them know."
Team work makes the dream work
"Something that has stood out for me at Zesty is that everyone is happy to help if I have a question or need something clarified! The team are very supportive and take time to explain processes which has been really helpful."
The DANI Awards
"I was lucky enough to attend the DANI Awards held in the beautiful Whitla Hall at Queens University with a few colleagues, the food was lovely and we were really happy to take home a DANI Award for 'Best Online Experience' for our Visit Blackpool project. The Team had a great night celebrating our win!"
Things I've learnt…
"In a short space of time I feel I have strengthened my communication skills. I'm responsible for liaising with both internal and external teams. I brief the Development, UX and Design teams on a daily basis ensuring client requests are accurately conveyed. I work closely alongside the Account Management team to schedule tasks and requests. I also liaise with our clients and suppliers regularly, ensuring agreed delivery timeframes are clear and that I keep all parties up to date with progress."
What I'm looking forward to next…
I'm looking forward to taking on new challenges and continuing to learn at Zesty!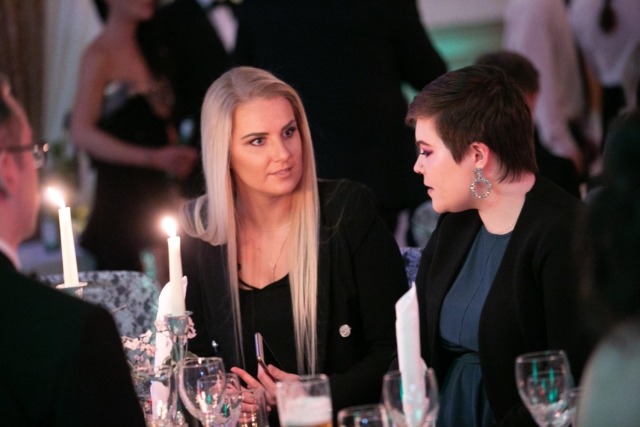 Lijana and Niamh pictured at the DANI Awards.
Interested in working at Zesty? We're always keen to hear from individuals who would be interested in joining our Team. Find out more here.
Published by Niamh O'Loughlin