The DANI Awards have been celebrating digital excellence in Northern Ireland since 2010, showcasing talent and expertise across the creative, digital and tech industries. With twenty categories, a diverse mix of businesses get involved, including start-ups, entrepreneurs, social enterprises and public sector organisations.
With a staggering 400+ entries this year we were delighted to be shortlisted in three competitive categories;
'Best Online Experience' for our Visit Blackpool project
'Best Use of Digital/ Innovation in Travel & Tourism' for our Meet in Ireland project
'Inspirational Leader of the Year' nomination for our Managing Director Andrew
The Awards ceremony on Friday evening was a black-tie affair held in QUB's stunning Whitla Hall, hosted by the notorious Paddy Raff who provided gasps and laughs in equal measure!
We were ecstatic to win the highly coveted award for 'Best Online Experience' for our Visit Blackpool website. The new website has played a central role in repositioning Blackpool as a contemporary family destination; showcasing the breadth and quality of the year-round attractions, events and entertainment on offer.
We'd like to thank the Visit Blackpool Team, they're a pleasure to work with!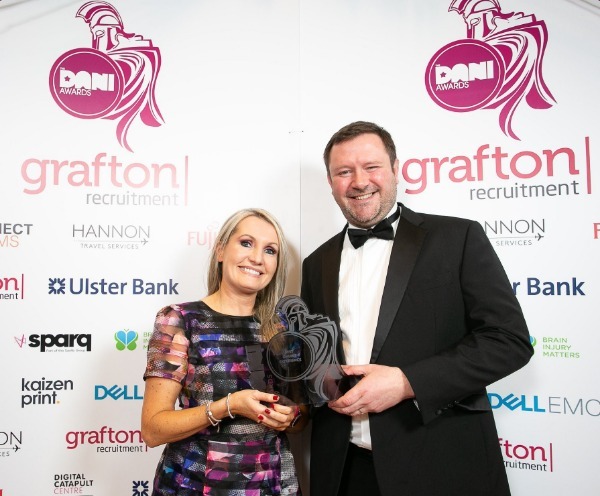 Pictured: Tara Leathem, Head of Business Development & Andrew Maybin, Managing Director
Best Online Experience and the winner is @SimplyZesty and @visitBlackpool. Thank you to @UlsterBankNI for partnering with us on this award 🙌🏻#DANIAwards19 pic.twitter.com/9Z20e4YaZb

— DANI Awards (@DANIAwards) March 15, 2019
A huge congratulations to our web developers @SimplyZesty for winning Best Online Experience at the #DANIAwards19 for their work on our website! We love the look and functionality of our website - very well deserved! 🙌 https://t.co/NUw8ifcmGO

— VisitBlackpool (@visitBlackpool) March 18, 2019